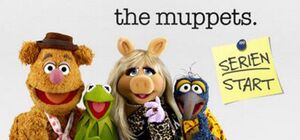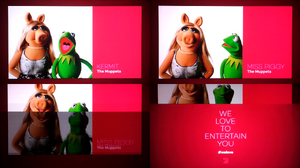 The Muppets, without title translation, is the German dub of The Muppets. Dubbed in the spring of 2016,[1] the series debuted on German network ProSieben on December 3, 2016.
Two different promotional clips of Kermit and Miss Piggy aired regularly on the family of networks during the month of December 2016, announcing the series' run on ProSieben in English (performed by Steve Whitmire and Eric Jacobson, respectively).
The show notably still features two of the characters' original voice artists from Die Muppet Show, Christina Hoeltel as Scooter and Donald Arthur as Uncle Deadly. Arthur passed away later in the year, but finished his work on the show.
As with the original US broadcasts, two half hour episodes were aired back to back.
Voices
Sources
External links