Country (Language)
The Netherlands
(Dutch)
Released
February 8, 2012 (The Netherlands)
February 15, 2012 (Belgium)
Running time
103 minutes
Dubbing Studio/
Localization
SDI Media
Script Translator/Editor
Judith Dekker, Hilde de Mildt
Voice Director
Hilde de Mildt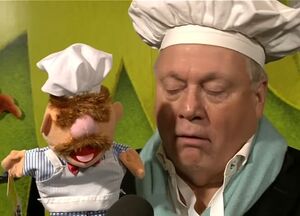 The Muppets was dubbed into Dutch for Dutch cinemas on February 8, 2012 in the Netherlands and February 15, 2012 in Belgium. While other international versions like Los Muppets reflect the local language, the title card of the Dutch version of the film still reads "The Muppets".
The dub relied heavily on Dutch celebrities, going so far as to cast chef and TV cooking show host Joop Braakhekke as the Swedish Chef.
Voices
Additional voices: Fleur van de Water, Huub Dikstaal, Ewout Eggink, Marjolein Algera, Just Meijer, Florus van Rooijen, Sander van der Poel, Jary Beekhuizen, Elaine Hakkaart, Hilde de Mildt, Victor Peters, Kaz Westerbeek, Boyan Van Der Heijden, Maikel Nieuwenhuis, Xavier Werner, Floor Kloosterman, Rob van de Meeberg
Posters
Promotion
External links
Community content is available under
CC-BY-SA
unless otherwise noted.