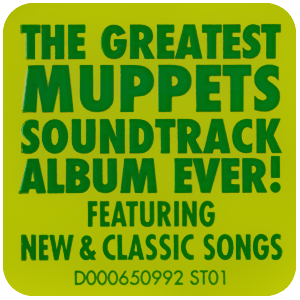 The Muppets is the soundtrack album from the film of the same name. It contains all of the songs from the movie, as well as dialogue clips between songs. It also includes the classic recording of "Mah Na Mah Na", taken from the very first Muppet Show album.
The album reached #38 on Billboard's Top 200 Albums chart.
A Spanish version, entitled Los Muppets, was released on December 6, 2011.[1] Further international versions followed the next year, as the film was released around the globe.
Track listing
Muppet Studios, I Can't Believe It* - Walter
Life's a Happy Song - Gary, Mary and Walter
I Haven't Seen the Old Gang* - Kermit and Gary
Pictures in My Head - Kermit, Fozzie, Gonzo, The Swedish Chef, and Dr. Teeth and the Electric Mayhem
We Drive* - Kermit and Walter
That Spells Reno* - '80s Robot and Mary
Rainbow Connection (Moopets Version) - The Moopets
Welcome Back* - Kermit, Fozzie, Walter and Dr. Teeth
Party of One* - Restaurant Greeter and Mary
Me Party - Mary and Miss Piggy
We Humbly Ask* - Kermit and Tex Richman
Let's Talk About Me - Tex Richman
The Answer is No* - Tex Richman and Kermit
Are You a Man or a Muppet?* - Mary
Man or Muppet - Gary (man and Muppet) and Walter (Muppet and man)
Down at the Ole Barbershop* - Kermit
Smells Like Teen Spirit - The Muppets Barbershop Quartet (Rowlf the Dog, Sam the Eagle, Link Hogthrob and Beaker)
Princesses of Poultry* - Kermit
Forget You - Camilla and the Chickens
It's Time for Our Song* - Kermit and Miss Piggy
Rainbow Connection - The Muppets
Get Out There and Help Those Guys* - Gary
The Whistling Caruso - Walter
How Charming, a Finale* - Uncle Deadly
Life's a Happy Song Finale - Entire Cast
Mary, Marry Me* - Gary and Mary
Mah Na Mah Na - Mahna Mahna and the two Snowths
Rainbow Connection - Kermit (iTunes bonus track)[2]
* indicates a dialogue track
Artwork
Translations
See also
Sources
Community content is available under
CC-BY-SA
unless otherwise noted.