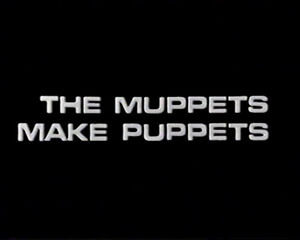 "The Muppets Make Puppets" was a special 30-minute episode produced for public television in 1969 as a follow-up to "The Muppets on Puppets" program and a companion to "Muppet Puppet Plays."
Jim Henson -- with the help of Muppet dogs Rowlf and Rufus, puppet builder Don Sahlin, and off-camera puppeteers Frank Oz and Daniel Seagren -- explains how to build and operate simple homemade puppets. Henson describes the various kinds of puppets; demonstrates how to operate hand puppets; and provides a look at how his brand of puppets, the Muppets, are built.
Broadcasts
WITF in Pennsylvania aired it as part of their Adventure in the Arts series.
Iowa Public Television aired it as part of their Volume See series. In 2009, IPTV uploaded 15 minutes of the program to their YouTube channel, cropping the original 4:3 screen resolution for a widescreen presentation. (YouTube)
Clips of the special, again adapted for widescreen, were included in Being Elmo: A Puppeteer's Journey.
See also
Community content is available under
CC-BY-SA
unless otherwise noted.