This article is about an upcoming project, product, or production.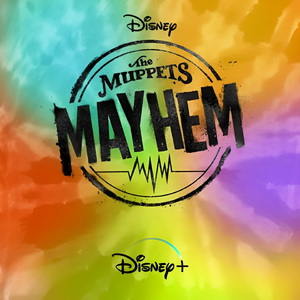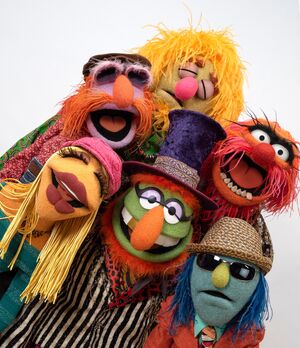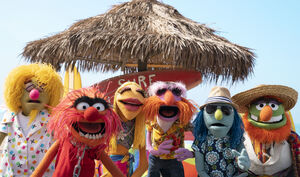 The Muppets Mayhem is a forthcoming series starring Dr. Teeth and the Electric Mayhem for Disney+.
The series follows The Electric Mayhem — Dr. Teeth on lead vocals and keyboard, Animal on drums, Janice on lead guitar, Floyd Pepper on bass guitar, Zoot on saxophone, and Lips on trumpet — as they set out to record their first studio album of songs.[2]
The series is intended to culminate with the release of an album featuring original songs and covers.[3]
Cast
The Muppets will be joined by Lilly Singh as Nora, a junior executive for a record label who will oversee the band in their efforts.[2] Additional cast members include Tahj Mowry as Gary "Moog" Moogowski, a super fan of the band who uses his knowledge of the group to aid Nora,[4] Saara Chaudry as Nora's younger sister Hannah, and Anders Holm in a recurring guest role as JJ, a tech entrepreneur and Nora's ex.[5]
Celebrity guests will include Cheech Marin and Tommy Chong.[6]
Muppet performers for the series include Bill Barretta, Dave Goelz, Matt Vogel, Eric Jacobson, David Rudman, Peter Linz, Leslie Carrara-Rudolph,[7] David Bizzaro,[8] Donna Kimball,[9] and Bruce Lanoil.[10]
Production
The series is being developed by Adam F. Goldberg, Bill Barretta, and Jeff Yorkes with a ten episode order that began filming on April 25[2][11][12] and wrapped on August 5, 2022.[13] Location shooting included the RMS Queen Mary[14] and the El Rey Theatre in California.[15]
Each episode will run approximately thirty minutes, with the production team looking at the series as a five hour movie narrative.[16] Writers on the series include Julie Bean, Hannah Friedman, Crystal Shaw, Hans Rodionoff, Gabrielle Rodriguez, and Danielle Maransky.[17]
Craig Kief serves as director of photography for the series. Directors include Matt Sohn[18] and Kimmy Gatewood.[1]
Sources
↑ 1.0 1.1 @kimmygatewood on Instagram May 31, 2022
↑ 2.0 2.1 2.2 The Hollywood Reporter "Muppets Mayhem Series a Go at Disney+" by Lesley Goldberg, March 7, 2022
↑ The Barretta Brothers episode 53 (YouTube) at 21:02
↑ Variety 'Muppets Mayhem' Disney Plus Series Casts Tahj Mowry Opposite Lilly Singh (EXCLUSIVE) by Joe Otterson, April 5, 2022
↑ Variety Disney+ 'Muppets Mayhem' Series Casts Anders Holm, Saara Chaudry by Joe Otterson, June 9, 2022
↑ @lollylardpop on Instagram August 7, 2022
↑ @davidbizzaro on Instagram August 7, 2022
↑ @donnakimball319 on Instagram August 1, 2022
↑ @JeffYorks on Twitter April 24, 2022
↑ @JeffYorks on Twitter August 5, 2022
↑ @peterlinz on Instagram July 20, 2022
↑ @wileydailey on Instagram August 2, 2022
↑ The Barretta Brothers episode 53 (YouTube) at 39:14
↑ The Barretta Brothers episode 53 (YouTube) at 3:03
↑ @craigkief_asc on Instagram April 25, 2022
External links