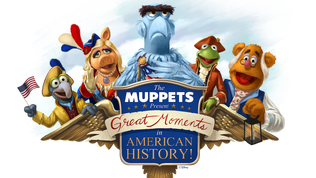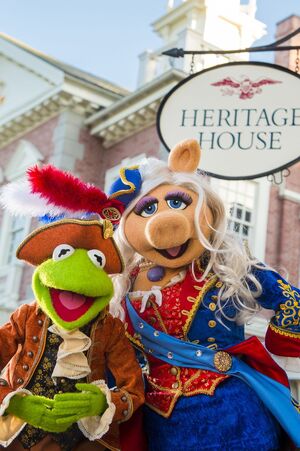 The Muppets Present... Great Moments in American History is a live show at Walt Disney World's Magic Kingdom park that premiered in 2016.
Performed in the Liberty Square area outside The Hall of Presidents, the show features Sam Eagle, Kermit the Frog, Miss Piggy, Gonzo, Fozzie Bear and Liberty Square town crier James Jefferson performing comedic reenactments of moments from Colonial American history. One version of the show reenacts the events leading to the Declaration of Independence, and an alternating version retells the ride of Paul Revere.
The regular Muppet performers for the featured characters pre-recorded their dialogue, which is synchronized by the park's in-house puppeteers.
The show ran regularly from October 2, 2016 through October 5, 2019. It returned for limited runs in December 23-31, 2019,[1] and February 15-17, 2020.[2]
The same windows have also been used for Kermit, Fozzie, Miss Piggy, Gonzo, Sam, and two chickens to make physically distant, silent, holiday-themed appearances in November 2020.[3][4]
Credits
The voices of:
Official description
2020 Christmas appearances
See also
External links
Sources