In the finale of The Muppets Take Manhattan, the Muppets have finally made it to Broadway with the opening night of their musical Manhattan Melodies.
During the closing number, the characters played by Kermit and Miss Piggy are to be married. But when the minister turns out to be real, it looks like they might finally tie the knot, after all.
The following is the list of characters from The Muppet Show, Sesame Street, and other Muppet productions who are seated in the pews to witness this historic event.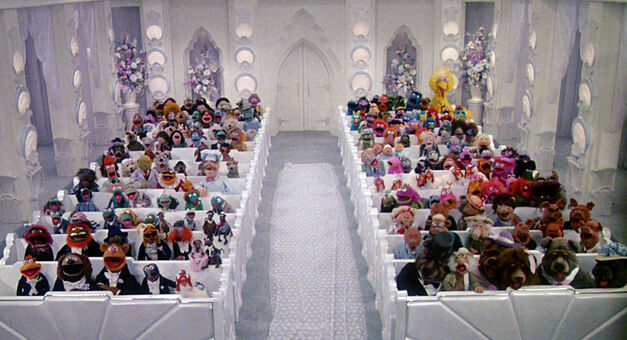 | Row | Groom's Side | Aisle | Bride's Side |
| --- | --- | --- | --- |
| 12 | Quongo, Slim Wilson, J.P. Grosse, Gramps, Gaffer, Whatnot | | Cookie Monster, Count von Count, Grover, Oscar, Grundgetta, Herry, Buster the Horse, Big Bird |
| 11 | Louis Kazagger, Lips, Foo-Foo, Hilda, Pops, Bobby Benson, Crazy Harry | | Ernie, Bert, Sully, Biff, Mona Monster, Simon Soundman, Guy Smiley, Telly |
| 10 | Whatnot, Whatnot, George the Janitor, Bubba, Marvin Suggs, Newsman, Sam the Eagle | | Sky Blue Honker, Forgetful Jones, Clementine, Grandmother Happy, Mr. Honker, Fuschia Honker, Elmo, Maurice Monster |
| 9 | White Rabbit, Goat, Deer, Dog, Muppy | | Sherlock Hemlock, Deena, Two-Headed Monster, Anything Monster, Bruce Monster |
| 8 | Creature, Raccoon, Sheep, Wayne, Wanda, Whatnot, Whatnot, Whatnot | | Irvine, Pearl, Anything Monster, Dinger, Orange Honker, Whatnot, Blue Honker, Whatnot, Whatnot |
| 7 | Dog, Rover Joe, Dog, Baskerville the Hound, Dog | | Baby, Baby, Baby, Guitarist Old Lady, Pianist Old Lady, Agnes Stonewick |
| 6 | Dog, Dog, Dog, Frank the Dog, Jim the Dog | | Whatnot, Snowth, Whatnot, Mildred Huxtetter, Whatnot, Whatnot, Whatnot, Whatnot |
| 5 | Beauregard, Beaker, Bunsen Honeydew, Lew Zealand, The Swedish Chef | | Chicken, Chicken, Chicken, Chicken, Chicken, Chicken, Male Koozebanian, Fazoob, Flower-Eating Monster, Droop |
| 4 | Male Frog, Female Frog, Male Frog, Mrs. Appleby, Female Frog, Female Frog, Male Frog | | Flute-Snatcher, Fazoob, Uncle Deadly, Lothar, Fazoob, Fazoob, Female Koozebanian, Svengali's Assistant, Mahna Mahna, Snowth, Luncheon Counter Monster |
| 3 | Male Frog, Bill, Jill, Gil, Female Frog, Robin the Frog, Norman | | Pig Baby, Male Pig, Female Pig, Female Pig, Pig, Male Pig |
| 2 | Animal, Dr. Teeth, Zoot, Janice, Chester Rat, Floyd Pepper, Masterson Rat, Tatooey Rat | | Male Pig, Link Hogthrob, Dr. Julius Strangepork, Male Pig, Female Pig, Male Pig |
| 1 | Scooter, Rowlf, Fozzie Bear, Gonzo, Camilla, Yolanda, Rizzo | | Male Bear, Uncle Traveling Matt, Female Bear, Beth Bear, Female Bear, Female Bear |
|   |   | Kermit, Minister, Miss Piggy |   |
Notes
In all the long shots of the church crowd, Mahna Mahna and a Snowth are seen sitting between Luncheon Counter Monster and The Fazoobs. However, in the closer shots of the congregation, Luncheon Counter Monster is right next to the Fazoobs, with Mahna Mahna and the Snowth nowhere to be found and Purple Lothar is in their place.
See also