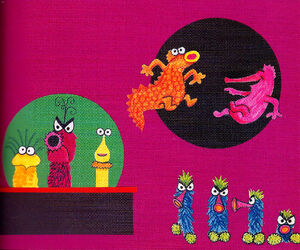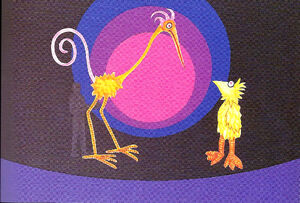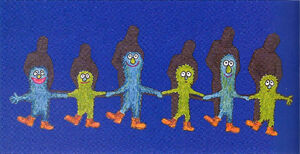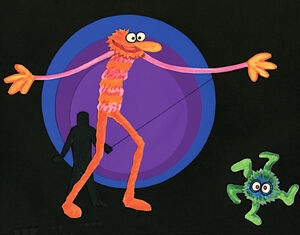 In 1972, Jim Henson proposed a Broadway show that was planned, but ultimately unproduced, for staging in a concert hall format at Lincoln Center. Several artistic concepts survive from the project, some of which can be seen on display in the Jim Henson's Fantastic World traveling exhibit and reproduced in the pages of Jim Henson's Designs and Doodles. The title "The Muppets in Concert" was used in documents proposing the show for an early 1973 debut, in the Alice Tully Hall. The Muppets at Lincoln Center was the title announced by Jim Henson for the television special "to be taped either during or immediately after the first run."[1]
Designs and Doodles includes artwork for the male and female Koozebanian creatures, Sclrap Flyapp, and the Snerfs; the Clodhoppers (showing the performers dressed in black); Big Boss Man (again with a black-suited performer shown) and a small, five-legged, blue and green furry creature with two eyes; and a Gawky Bird towering over a Big Bird-like bird. One early piece pitched for the show involved a scene with Rowlf speaking at a podium, which would collapse and reveal Jim and Frank Oz performing him.[2]
Jim Henson's Fantastic World includes artwork of eleven performers holding hands on stage, some of whom are halfway into full-bodied Muppet suits; a woman dancing with two feminine faces in the style of Limbo with some pink and purple squares and triangles similar to Henson's animation work in Time Piece; and black-suited performers manipulating what appear to be larger versions of the realistic sea gulls seen in episode 309 of The Muppet Show.
From Jim Henson's Designs and Doodles:
Sources
↑

"Some thoughts on 'The Muppets in Concert' proposed for Alice Tully Hall - early fall, 1973." Four pages. From the Larry Gelbart Papers at UCLA Library Special Collections.

↑ Jim Henson: The Biography by Brian Jay Jones, page 185
External links