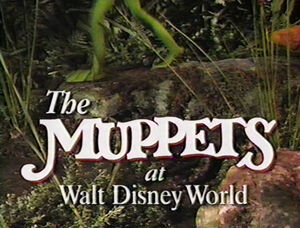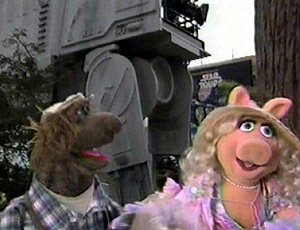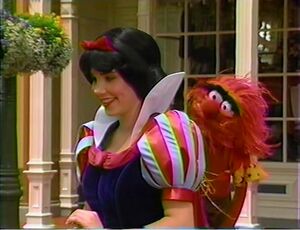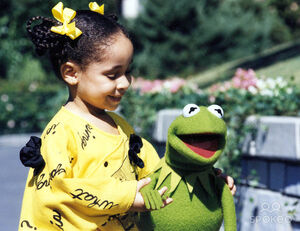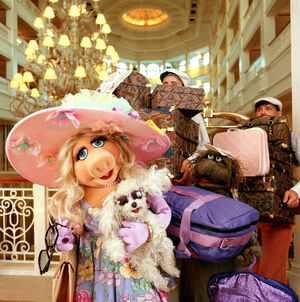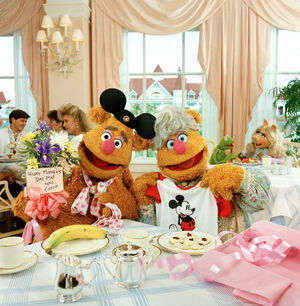 The Muppets at Walt Disney World premiered on NBC on May 6, 1990 as an episode of The Magical World of Disney. It was part of an awareness campaign to promote the planned merger of The Jim Henson Company with The Walt Disney Company.
In this one-hour special, the Muppets visit Kermit's hometown of Paradise Swamp, Florida for the annual Frog Festival and Bug Fry. Once there, they discover Walt Disney World on the other side of the swamp. After a run-in with Quentin Fitzwaller, an irate, bumbling security guard played by Charles Grodin, the group splits up to explore the wonders of the theme parks and resort complex.
Highlights include:
Songs
Four new songs were written by Mark Radice for the special. No songwriter is credited in the special itself.
Cast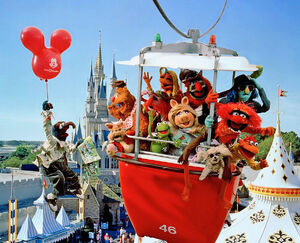 Muppets Kermit the Frog, Miss Piggy, Fozzie Bear, Gonzo, Camilla the Chicken, Ma Bear, Rizzo the Rat, Beauregard, Dr. Teeth, Animal, Floyd Pepper, Janice, Zoot, Lips, Clifford, Bean Bunny, Scooter, Dr. Bunsen Honeydew, Beaker, Rowlf the Dog, Statler and Waldorf, Link Hogthrob, Frogs, The Swedish Chef, Robin the Frog
Background Muppets Sprocket, Foo-Foo, Baskerville the Hound, Afghan Hound, Ace Yu, Laughing Boy, Bugsy Them, Mad Dog, Rufus the Dog, Lyle the Dog, Dogs, Luncheon Counter Monster, Uncle Deadly, Tug Monster, Gil, Bill, Mrs. Appleby
Muppet Performers
Special Guests
Gallery
Credits
Executive Producer: Jim Henson
Producers: Diana Birkenfield and Martin G. Baker
Director: Peter Harris
Writer: Jerry Juhl
"Rockin' All Around The World", "I'm Doggin' It", "Love In A Laundromat", "More More More"
Original songs written by Mark Radice (uncredited)
Music Producer: Phil Ramone
Musical Arrangements: Larry Schwartz, Charlie Camorata, Mark Radice, Merrill and Rubicam
Production Designer: Victor DiNapoli
Muppet Workshop: Joann Green, Mark Zeszotek, Henri Ewaskio, Larry Jameson
Costume Design: Polly Smith, Stephen Rotondaro
Notes