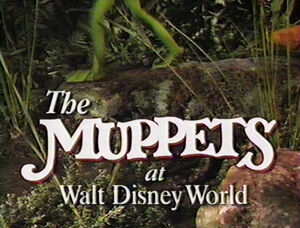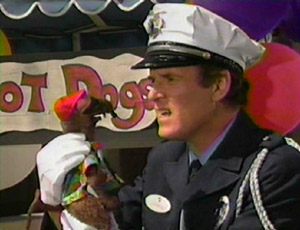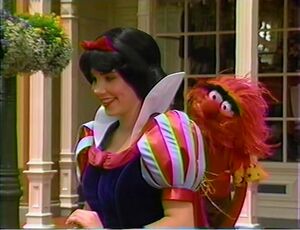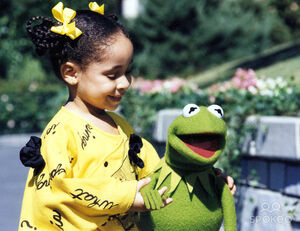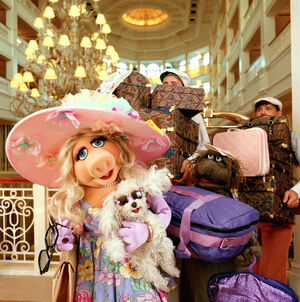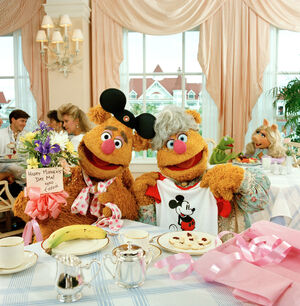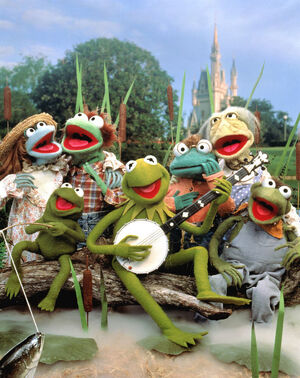 The Muppets at Walt Disney World premiered on NBC on May 6, 1990 as an episode of The Magical World of Disney. It was part of an awareness campaign to promote the planned merger of The Jim Henson Company with The Walt Disney Company.
In this one-hour special, the Muppets visit Kermit's hometown of Paradise Swamp, Florida for the annual Frog Festival and Bug Fry. Once there, they discover Walt Disney World on the other side of the swamp. After a run-in with Quentin Fitzwaller, an irate, bumbling security guard played by Charles Grodin, the group splits up to explore the wonders of the theme parks and resort complex.
Highlights include:
Songs
Four of the original songs were written by Mark Radice for the special. No songwriter is credited in the special itself.
Notes
This is one of the last productions that Jim Henson would live to see before his death, ten days after the special's premiere.
For scenes taking place on the Disney World thrill rides, Dave Goelz puppeteered Miss Piggy instead of Frank Oz, who claimed to have motion sickness.[1]
Cast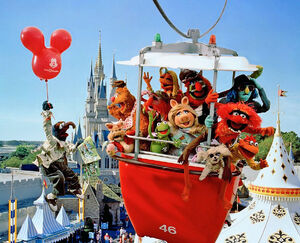 Muppets Kermit the Frog, Miss Piggy, Fozzie Bear, Gonzo, Camilla the Chicken, Ma Bear, Rizzo the Rat, Beauregard, Dr. Teeth, Animal, Floyd Pepper, Janice, Zoot, Clifford, Bean Bunny, Scooter, Dr. Bunsen Honeydew, Beaker, Rowlf the Dog, Statler and Waldorf, Link Hogthrob, Frogs, The Swedish Chef, Robin the Frog
Background Muppets Sprocket, Foo-Foo, Baskerville the Hound, Afghan Hound, Ace Yu, Laughing Boy, Bugsy Them, Mad Dog, Rufus the Dog, Lyle the Dog, Dogs, Luncheon Counter Monster, Uncle Deadly, Tug Monster, Gil, Bill, Jill, Mrs. Appleby, Yolanda, Rats, Lips
Muppet Performers
Special Guests
Gallery
Credits
Sources
↑

Happily Ever After Hours: Muppet Performer Dave Goelz, April 17, 2020.

↑ 3.0 3.1 Below the Frame EP#20: Joey Mazzarino/"Tall Shoes"/Not Puppets (John Kennedy)