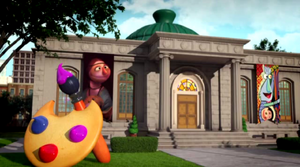 The Museum of Modern Cookie is an art museum that specializes in showcasing the most famous works of cookie art in the world from such artists as Leonardo da Crunchy, Vincent van Dough and Edvard Munch. Its grand opening on Sesame Street is the basis for the 2015 special, The Cookie Thief.
Among the museum's staff are tour guide Prairie Dawn, a lead security guard (played by Rachel Dratch), the Cookie Patrol (a trio of guard penguins) and Grover as an in-house art supplier. In addition to the galleries, the museum also features a sandwich cookie pavilion, a cookie cafeteria, gift shop and coat check.
Community content is available under
CC-BY-SA
unless otherwise noted.