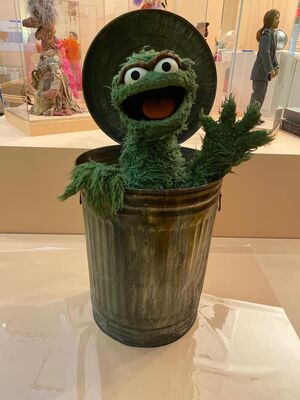 The Museum of the City of New York was established in 1923, housing artifacts of all kinds pertaining to the history of New York City.
In August 2021, the museum opened an exhibit called "Puppets of New York," highlighting influential puppets and puppeteers of the city. Jim Henson is among those highlighted in "The Set" section, centering on puppetry on film and television. Puppets of Oscar the Grouch, Queen Peuta, Mahna Mahna, and the Snowths are featured as a part of the display.
In conjunction with the opening of the exhibit, the museum hosted a "Moonlight & Movies" screening of The Muppets Take Manhattan on August 12, introduced by Cheryl Henson.
Other notable puppets in the exhibit include Lamb Chop, Trekkie Monster from Avenue Q, a puppet from The Lion King stage musical, and Girar the Yardbird from Muppet performer Tau Bennett's short puppet film "Cold Sober."
Elsewhere in the museum, the "New York At Its Core" exhibition includes Sesame Street in its section "1970-1980: Against All Odds." The area contains a video tablet with a brief explanation of its significance to the city, along with clips of the "Sesame Street Theme," "I Am - Somebody," "The Subway," and "Walkin' Down My Street."