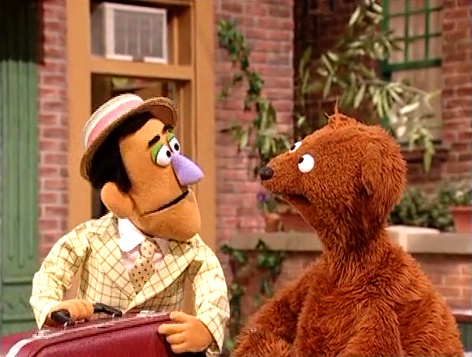 The Music Man is a musical by Meredith Wilson which debuted on Broadway in 1957, and has been revived several times since. A staple of community, regional, and high school theatres, the show is set in the fictional town of River City, Iowa, and follows the exploits of traveling salesman Harold Hill, and town librarian, Marian.
Many songs from the musical have become standards in the American songbook, including "Seventy-Six Trombones" and "Pick a Little, Talk a Little".
References
The season 21 premiere episode of Sesame Street is an extended spoof of The Music Man. Preston Rabbit (named after Robert Preston) comes to Sesame Street and wants to give the people there gifts (rather than con them). The episode includes four song spoofs by Paul Jacobs and Sarah Durkee: "What's Your Name?" spoofs "Iowa Stubborn"; "TROUBLE" on Sesame Street spoofs "Ya Got Trouble" in River City; "Until There Was a U" spoofs "Till There Was You"; and "Seventeen Ice Cream Cones" spoofs "Seventy-Six Trombones".
Slimey is surrounded by pieces of costumes and casts off a hat that Oscar says looks like something from The Music Man in Episode 3856.
In Elmo's World: Music, The Music Channel shows a documentary about the very first music played in the entire world ever. It then advertises that coming up next is The Music Man, The Sound of Music and Name That Tune.
In episode 4326 of Sesame Street, Grover's role as an instrument-salesman spoofs Harold Hill in The Music Man, complete with a "Ya' Got Trouble"-inspired sales pitch. Later, he mentions he has 76 trombones in his stock.
Connections
External links
Community content is available under
CC-BY-SA
unless otherwise noted.