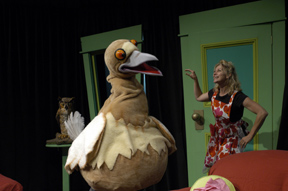 The National Puppetry Conference, hosted at the Eugene O'Neill Theatre Center in Waterford, Connecticut, was established in 1990 by key founding members Jane Henson, George Latshaw, Richard Termine, Bobbie Nidzgorski, Bart P. Roccoberton Jr., and Jim and Margo Rose. The mission of the conference is to encourage puppet artists to create and communicate through the visual and kinetic form of the puppet, push beyond their personal boundaries and develop new works for puppet theater. The conference lasts eight days.
The Conference is sponsored by the Rose Endowment for Puppetry established by Jane Henson and dedicated to the legacies of Bil Baird, Jim Henson, Rufus and Margo Rose, Don Sahlin, Martin Stevens, Burr Tillstrom and Brad Williams and to the spirit with which they shared their artistry and themselves.
Pam Arciero serves as the Conference's Artistic Director. Martin P. Robinson is the Director of Emerging Artists, and Leslie Carrara-Rudolph is in charge of Character Development.
The Kevin Clash Scholarship for Puppeteers of Color has been awarded for conference participants.
Pigeon-Holed, a one act play by Annie Evans, originated at the O'Neill Puppetry Conference, and featured Muppet performers Leslie Carrara, Pam Arciero, Heather Asch and Marty Robinson. The play was also performed in 2006 at a tribute benefit for Nikki Tilroe.
Heather Henson, Tim Lagasse, Paul McGinnis, Patrick Holmes, Emily Perl Kingsley, Ryan Dillon, Eric Engelhardt, Ronald Binion, Alice Dinnean, Amanda Maddock, Terry Lee and Mark Gale have all been involved with the Eugene O'Neill National Puppetry Conference.
External links
Community content is available under
CC-BY-SA
unless otherwise noted.