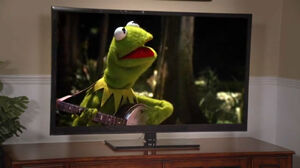 The Neighbors is an American television comedy series about a human family living among in a suburban community made up entirely of extraterrestrials. The series began airing on ABC in 2012.
Mentions
In the season one episode "Merry Crap-Mas," as the leading alien family sits among the Weaver family's Christmas presents they wrongfully opened, Larry Bird says "Tell you what; let's watch the Muppets' A Christmas Carol again! The Muppets, I like. I could really get down with the Muppets. Kermit: [imitating the frog's voice] Jackie Joyner-Kersee, please press play!" Later on in the episode, Kermit singing "Have Yourself a Merry Little Christmas" (from A Green and Red Christmas) plays over a scene of Larry Bird contemplating having ruined Christmas for his neighbors, and Abby Weaver talking sense into him over a cup of tea.
In the season one episode "Cold War," Kermit the Frog is again a reappearing theme. Kermit can be seen twice, and heard several more times, singing "Rainbow Connection" from The Muppet Movie, as Max Weaver likes to watch the frog sing his trademark song on a loop to feel better when fighting the common cold (prompting Abby to mutter "You're ruining Kermit for me" at one point).
In the season one episode "Space Invaders," Debbie Weaver points out that she and her daughter Amber haven't had a discussion about boys since watching The Muppets Take Manhattan, claiming she ended up having "a weird dread about Gonzo." Marty Weaver replies, "Gonzo's a daredevil who plays the trumpet, okay. He checks a lot of boxes."
Connections
Community content is available under
CC-BY-SA
unless otherwise noted.