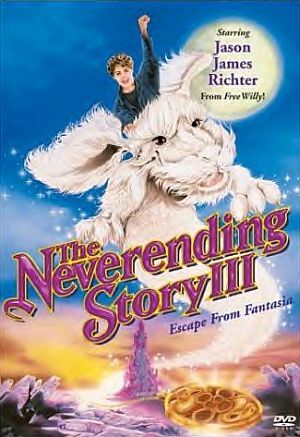 | | |
| --- | --- |
| Released | 1994 |
| Duration | 95 minutes |
| Director | Peter MacDonald |
| Written by | Karen Howard (story), Jeff Lieberman (screenplay), Michael Ende (characters) |
| Music | Péter Wolf |
| Studio | Miramax |
| Rated | G |
The Neverending Story III was the second sequel to the 1984 fantasy film The Neverending Story, following 1990's The Neverending Story II: The Next Chapter. The plot, independent of the original Neverending Story novel, continues the adventures of young Bastian, as a group of bullies threaten the world of Fantasia and its inhabitants, accessible only through the book. Jim Henson's Creature Shop supplied all of the fantasy characters as animatronic puppets.
The film received only limited release in the United States in February 1996, two years after the European release, and shortly before appearing on home video.
Cast
Creature Performers
Voices
Creature Shop Credits
Creative Supervisor: John Stephenson
Head of Production: William Plant
Project Supervisor: Verner Gresty
Puppeteer Coordinator: Rob Tygner
Designers: Gary Pollard, Kevin O'Boyle, Nigel Booth, Merrick Durling
Key Puppeteers: David Alan Barclay, Richard Coombs, Susan Dacre, Phil Eason, Rick Lyon
Sculptors: Alex Harwood, Carole De Jong, Chrissie Overs, Chris Fitzgerald, Lindsey McGowan, Justin Exley, Colin Shulver, Tacy Kneale, Christiane Koch, Jane Francis, Ivan Manzella, Joel Collins, Rashna Elevia
Miniatures model supervisor: Richard Perkis
Miniature mechanics: Jamie Campbell, Chris Martin
Mechanics: Simon Hewitt, David Dunsterville, Jim Machin, Jason Reed, Richard Gregory, Chris Howes, Jamie Jackson-Moore, Simon Donaldson, Phil Sharpe, Adrian Parrish, Alex Morgan, Richard Darwin, Robin Ellis, Tim Jordan, Rik Marr, Tristan Collett
Costume supervisors: Fiona Cazaly, DJ Gramman
Creatures Featured
Other Creatures
Community content is available under
CC-BY-SA
unless otherwise noted.