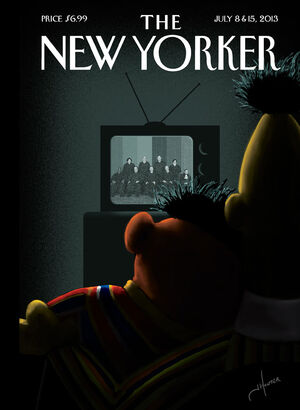 The New Yorker is an American magazine containing essays, fiction, satire, cartoons, and poetry, first published in 1925. The magazine often focuses on cultural life in New York City, but its audience is widespread, with subscribers across America.
The single panel cartoons traditionally featured in the magazine have been part of the magazine since its inception in 1925. Cartoonists featured over the years have included Charles Addams, Cliff Roberts and Ed Koren.
Mentions
The magazine's July 8 & 15, 2013 cover featured an illustration of Ernie and Bert cuddling by a TV set watching news of the Supreme Court of the United States. The cover appears in conjunction with the court's rulings in favor of equality, pertaining to the historic "Defense of Marriage Act" and "Proposition 8" rulings that took place on June 26, 2013. Cover artist Jack Hunter is quoted saying this about the unsolicited piece, titled "Moment of Joy," that was originally submitted to a Tumblr:

"

It's amazing to witness how attitudes on gay rights have evolved in my lifetime. This is great for our kids, a moment we can all celebrate.[1]

"
The November 9, 2015 cartoon depicts Elmo at a guillotine with the caption, "Everything's more fun with Muppets!"
References
Connections
External links
Sources
Community content is available under
CC-BY-SA
unless otherwise noted.