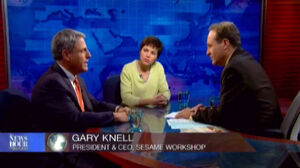 The NewsHour with Jim Lehrer is an evening television news program broadcast weeknights on PBS. The program is anchored by Jim Lehrer, who previously co-anchored with Robert MacNeil (as The MacNeil-Lehrer NewsHour) until MacNeil retired in 1995. In December 2009, the show was renamed PBS NewsHour.
A segment on the May 16, 1990, episode discusses Jim Henson and Sammy Davis Jr. who both died on the same day. The show returned to this topic two days later.
On November 10, 2009, Jeffrey Brown narrated a piece about the 40th anniversary of Sesame Street. Brown then interviewed Gary Knell, along with Lisa Guernsey, author of Into the Minds of Babes: How Screen Time Affects Children from Birth to Age Five. The pair discussed how children's television has changed in the 40 years since Sesame Street premiered.
The show's website also featured additional materials available for download.
On October 10, 2019, the show featured the 50th anniversary of Sesame Street, focusing on the recent Sesame Street in Communities outreach efforts.
References
Two season 15 episodes, including Episode 1866 and 1944, of Sesame Street feature Robert MacNeil reporting from the NewsHour set. In Episode 1866, Oscar sarcastically replies to one of MacNeil's observations, "Did you figure that out all by yourself or did Lehrer help you?"
In a Sesame Street sketch featuring MacNeil, Cookie Monster mistakenly refers to him as his NewsHour co-star, "MacLehrer."
External links
Community content is available under
CC-BY-SA
unless otherwise noted.