The Nursery is the home of the Muppet Babies. It debuted in The Muppets Take Manhattan during Miss Piggy's dream sequence as an idealized world where the Muppets all knew each other as infants, and where little ones could use their Big Bird doll as a potential patient while playing doctor. Notable features of the well-lit nursery include a large, iconic window by a sitting nook full of pillows, Baby Rowlf's baby grand piano, a rocking horse, cribs, swing sets, and an assortment of play vehicles.
The nursery subsequently became the primary location during the Muppet Babies series, under the watchful eye of Nanny.
Muppet Babies reboot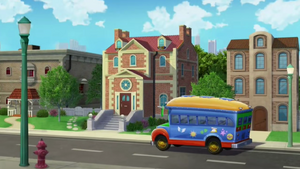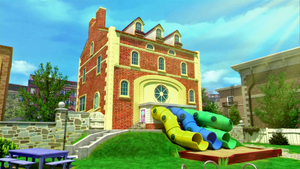 The 2018 reboot series expands on the Nursery with a large Playroom that includes a couch, a snack-time table, a reading nook, a music corner, a large interactive scribble screen, a kitchen playset that doubles as Muppet Labs, as well as adding an entire backyard to the building, with even more spaces for activity and play. The nursery building is connected to the backyard through tube slides leading out into a sand box.
The backyard's prominent features include a large tree in the center, with an open, multi-level tree house, a bird house and several swing sets, a picnic area and a small basketball court corner by the sandbox, a theater stage next to Mr. Statler and Mr. Waldorf's neighboring property, a gardening area in the back, a merry-go-round and a bouncy stream and pond next to the property that Sweetums' family moves into, as well as a chicken coop for Camilla, Priscilla and Beep, that is directly connected to Piggy's dressing room. The green backyard also lies adjacent to a public park surrounded by sky scrapers, reminiscent of New York City's Central Park (the place where Miss Piggy first conceived of the idea of the Muppet Babies in The Muppets Take Manhattan).
Although the building that houses the nursery has several upper levels, it is never outright implied that Miss Nanny lives in the building; but one of the characters is told to have moved in and lives with some dust bunnies behind a hole in the wall: Rizzo the Rat.
The iconic window from the show's previous incarnation is kept in the design of the new building, both above the front door (featured at the start of every episode during the "Muppet Babies Theme"), as well as facing the backyard, positioned above the slides.