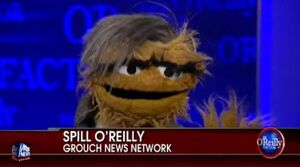 The O'Reilly Factor is a news/talk show which has aired on the Fox News Channel since 1996, in which host Bill O'Reilly gives his opinions and discusses current events.
In early November 2009, a clip of Sesame Street Episode 4160, which had recently rerun on PBS at that time, showing Grundgetta referring to "POX News" as "a trashy news show" circulated through conservative blogs, leading O'Reilly to comment that "we may have to ambush Oscar." On the November 24, 2009 installment of the program, Sesame Workshop Executive Vice President Sherrie Westin appeared to explain to O'Reilly that Sesame Street frequently relies on parodies in order to engage parents and encourage them to watch with their children and that being trashy is a compliment to a grouch. Westin then introduced O'Reilly to his grouch counterpart, Spill O'Reilly, who explained that much like Fox News, grouches are "fair and balanced"- they hate people from every political spectrum.
External links
Community content is available under
CC-BY-SA
unless otherwise noted.