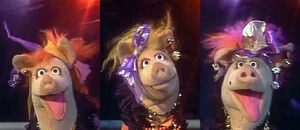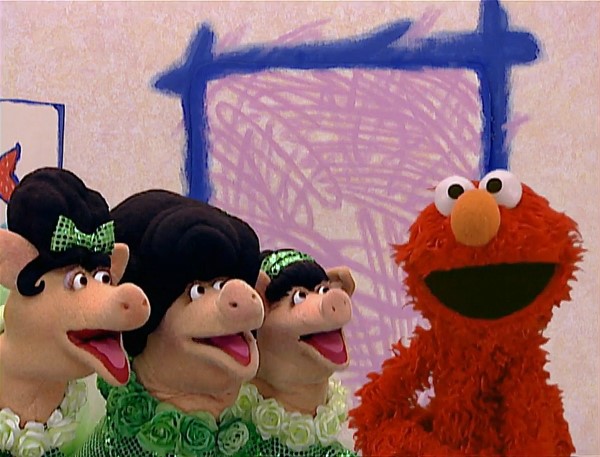 The Oinker Sisters are a trio of pigs who have appeared on Sesame Street periodically since Season 17. Their name is a riff on the Pointer Sisters (who had previously sung on the Pinball Number Count animated segments).
The sisters are best remembered for their song "A New Way to Walk." The leader, Sooey Oinker, is voiced by Ivy Austin, while the other members have changed over the years. Singers have included Tawatha Agee, Heidi Berg, Angela Cappelli, Cheryl Hardwick and Annette Sanders. Kevin Clash provided the speaking voice for the lead sister in a brief appearance in the 1990 home video Dance Along!
In Episode 3745, their first names are revealed to be LaVerne (the pink-haired pig, previously established as Sooey), Louise (the blonde), and Lutrella (the orange).
Between their debut and throughout the 1990's, the characters were seen primarily in punk rock outfits. Beginning in the late 1990's, their regular outfits changed to those wore by 1960's girl vocal groups similar to those wore by The Supremes. In their "The Boogie-Woogie Piggies" number they were seen wearing outfits reminiscent of The Andrews Sisters.
According to Elmo's World: "Families", "The Days of Swine and Roses" is the title of an Oinker Sisters album.
Songs
Appearances
See also