PERFORMER
various
DEBUT
1977
PATTERN
Fat Blue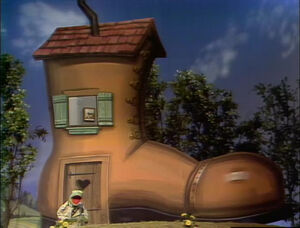 The Old Woman Who Lives in a Shoe is the title character of a well-known nursery rhyme, There was an Old Woman Who Lived in a Shoe. As her name suggests, she lives in a giant shoe (a size 59 triple-E, by Kermit's approximations). She is the mother of many children (so many that she doesn't know what to do). She has appeared multiple times on Sesame Street.
In her earliest known appearance (in a "News Flash" segment), she is played by Frank Oz. When Kermit arrives at her house, she quickly, and without asking, puts him in charge of babysitting so she can go bowling. (She is a member of the Gray Panthers Bowling League.) Her house is located next to the Young Woman Who Lives in a Hat. In this segment, nine of her children are named. She tells Heather and Johnny not to fight; Brian, Lisa and Cheryl not to watch too much television; and Polly and Kate to go to bed when the frog says. The first five children named have the same first names as Jim and Jane Henson's five children, and Polly and Kate are named after Jon Stone's children. One of the children also calls out for his sisters Amanda and Rachel. (First: Episode 1050)
In a later appearance (played by Kathryn Mullen), she contradicts the News Flash as she visits the office of Mother Goose due to nursery rhyme problems; Mother Goose had trouble coming up with her poem's ending. Once again at the end of the sketch, she dumps her kids and leaves them at Mother Goose's office (which they wreck and adorn with crumpled paper and paper airplanes). (First: Episode 1328)
In another appearance in 1990s, when Miss Marble helped track down her missing shoe-house in an episode of "Fairytale Detective." Julianne Buescher played the Old Woman in this appearance. (First: Episode 3386)
She later appeared (as a Hot Pink Anything Muppet) performed by Fran Brill in Episode 4519. She's seen driving a shoe-shaped car and has 12 rambunctious kids named Ed (Eric Jacobson), Fred and Ned (John Kennedy), Ted and Jed (Peter Linz), Red and Nan (Ryan Dillon), Jan and Ann (Stephanie D'Abruzzo), Fran (Carmen Osbahr), Zan (Leslie Carrara-Rudolph), and Marcelo (David Rudman).
Non-Muppet portrayals
See also