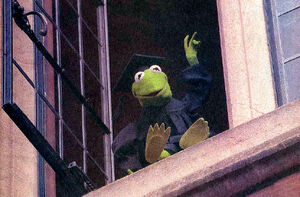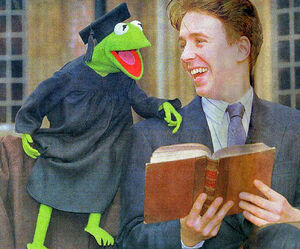 The Oxford Union Society, commonly referred to simply as the Oxford Union, is a debating society in the city of Oxford, UK, whose membership is drawn primarily but not exclusively from the University of Oxford. Founded in 1823, it is Britain's second oldest University Union, and has gained a worldwide reputation for the cut and thrust of its debate, proving a valuable training ground for many future politicians from Britain and other countries.
Kermit the Frog was invited to speak at the Oxford Union in 1994. He delivered an address to a thousand students on October 28th, wearing a mortarboard and gown.
In the speech, Kermit said that he felt deeply honored to be invited to speak there. "The responsibility of representing an entire species rests on my shoulders." He explained that he wasn't able to pursue an academic career himself: "When I was a tadpole, I had over four thousand brothers and sisters, so my parents couldn't afford to send me to university... Like most frogs, I could have gone into Biology and majored in dissection, but I wasn't really cut out for that."
Kermit talked about the importance of protecting the environment, encouraging the stuents to "go green" -- beginning by cleaning up their dorm rooms. He also advised young women not to kiss frogs, saying that there are enough British princes already.
Oxford Union president Jeremy Green said that he was very pleased to invite Kermit to speak: "The current generation of students grew up with the Muppets, and we're thrilled that he is our first amphibious speaker."
Sources
The Daily Mail, UK. October 28, 1994.