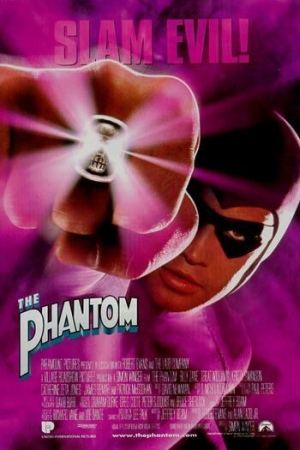 | | |
| --- | --- |
| Released | 1996 |
| Duration | 100 minutes |
| Director | Simon Wincer |
| Written by | Jeffrey Boam (screenplay), Lee Falk (characters) |
| Music | David Newman |
| Rated | PG-13 |
The Phantom is an action film adapted from the long-running newspaper comic strip, focusing on a mysterious, purple clad crimefighter known as "The Ghost Who Walks." The film's plot revolves around the Phantom's attempt to beat a mad playboy to access to a fabled weapon.
Jim Henson's Creature Shop supplied "special Phantom costume elements" for the film.
Cast
Billy Zane as The Phantom/Kit Walker
Kristy Swanson as Diana Palmer
Treat Williams as Xander Drax
Catherine Zeta-Jones as Sala
James Remar as Quill
Cary-Hiroyuki Tagawa as The Great Kabai Sengh
Patrick McGoohan as The Phantom's Dad
Bill Smitrovich as Uncle Dave
Casey Siemaszko as Morgan
David Proval as Charlie Zephro
Joseph Ragno as Ray Zephro
Samantha Eggar as Lily Palmer
Jon Tenney as Jimmy Wells
Robert Coleby as Capt. Philip Horton
Credits
Community content is available under
CC-BY-SA
unless otherwise noted.