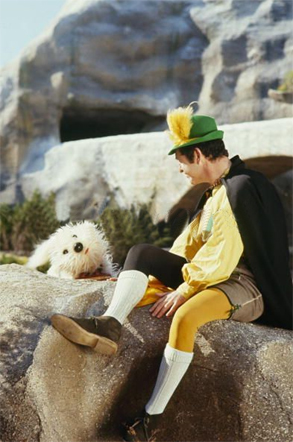 The Pied Piper of Astroworld was a television special which was broadcast over ABC on December 28, 1968.[1] The special was hosted by Soupy Sales as the Pied Piper, who led a group of children around the Astroworld amusement park in Houston.
The Muppets appeared; according to one review, "Once again the Muppets manage to steal the show, particularly the familiar face and figure of Rowlf."[2] Rowlf was joined by Rufus, the Southern Colonel, and a little girl Anything Muppet, who sang "I'd Do Anything" from the musical Oliver! to Sales. The song "Consider Yourself" from the same musical was also featured, sung by Rowlf. The Java Muppets appeared to perform their act.
Also appearing were singer Lesley Gore (as Bo Peep) and the First Edition, the music group which included Kenny Rogers.
Chet O'Brien worked on the special; a year later, he worked with Jim Henson and Frank Oz again as the stage manager for Sesame Street.[3] The Henson team filmed their sections between November 30 to December 5.[4]
The special has been restored by the UCLA Film & Television Archive.[5]
Sources