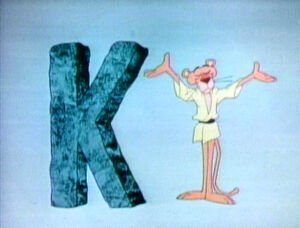 The Pink Panther is a silent cartoon character distinguished by his casual attitude and distinctive Henry Mancini theme song. The character was created by Looney Tunes veterans Friz Freleng and Hawley Pratt for the title sequence of Blake Edwards' 1964 comedy of the same name (which introduced Peter Sellers as Inspector Jacques Clouseau). The credits were as widely praised as the film itself, and beginning that year, the Panther spun-off into his own series of theatrical shorts. Multiple television series and specials followed, as well as continuing appearances in the credits of the live-action Pink Panther franchise.
The Pink Panther guest starred on Sesame Street, in a segment produced by DePatie-Freleng, demonstrating the letter K through karate techniques. (First: Episode 0241)
References
Connections
Many actors who have worked in Muppet/Henson productions either appeared in the live-action Pink Panther films or supplied voices for the animated series.