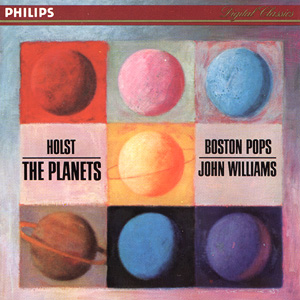 The Planets is a symphonic suite written by Gustav Holst between 1914 and 1916. The piece is written in seven movements: one for each of the known planets in Earth's solar system. By far Holst's most popular work, the music was a success with audiences beginning with its first complete public performance in 1920. Since that time, The Planets has been recorded by a number of world-renowned orchestras and has found many uses in popular culture, making it one of the most recognizable pieces of classical music.
In 1998, the "Slimey to the Moon" story arc on Sesame Street utilized several elements from the suite for its dramatic underscore. "Venus, the Bringer of Peace" was used for scenes in which Slimey was gazing up to the moon at night and when the crew of the Wiggleprise were saying goodbye to their families. "Mars, the Bringer of War," the movement often closely associated with the music of Star Wars, could be heard in scenes requiring a build up of suspense, such as the crisis on the Wiggleprise and the final approach of the ship to the moon. Finally, "Jupiter, the Bringer of Jollity," with its epic grandiosity, was used for emphasis during inspirational moments, invoking a sense of history in the making.
Community content is available under
CC-BY-SA
unless otherwise noted.