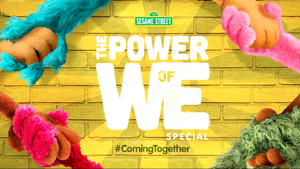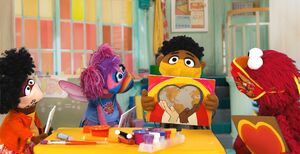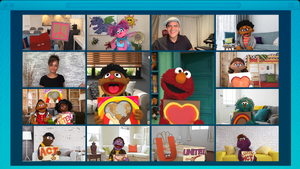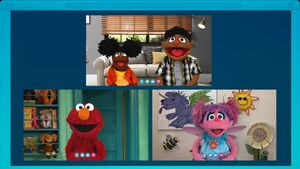 The Power of We: A Sesame Street Special is a Sesame Street television special released on HBO Max and broadcast on PBS Kids on October 15, 2020.
The special features Muppet characters Elmo, Abby Cadabby, Gabrielle, her cousin Tamir, humans Alan, Charlie, and Gordon, plus special guests Yara Shahidi, Christopher Jackson, and Andra Day. The special also features three original songs, "How Do You Know?", "Here's What We Can Do," and "Listen, Act, Unite!" (the latter written and performed by Jackson with Day).
Cast
Muppet Characters

Elmo, Abby Cadabby, Gabrielle, Tamir, Louie, Rosita, Oscar the Grouch, Anything Muppets, AM Monster, Square, Letter U
Sesame Street Muppet Performers
Cast
Special Guest Stars

Andra Day

Yara Shahidi
Animation Voice Over
Credits
Executive Producer: Benjamin Lehmann
Producers: Michael Cargill, Ken Scarborough
Consulting Producer: Geri Cole
Co-Producer: Matt Vogel
Content Producer: Autumn Zitani Stefano, M.A.
Coordinating Producer: Mindy Fila
Senior Producers: Karyn Leibovich, Stephanie Longardo
Directed by Alan Muraoka, Chuck Vinson
Written by Geri Cole
Upstander Animation Written by Sarah Jackson
Puppet Captain: Matt Vogel
Senior Vice President of Curriculum & Content: Rosemarie T. Truglio, Ph.D.
Senior Vice President, U.S. Social Impact: Jeanette Betancourt, Ed. D.
Henson Production: Melissa Creighton, Joseph Roddy, Carolyn Fanelli
Music Director: Bill Sherman
Music Director (Arrangements and Orchestrations): Joe Fiedler
Music Editors: Tyler Hartman, Paul Rudolph
Music Director (Vocals): Paul Rudolph
Music Coordinator: Tyler Hartman
Audio Editor: Paul Rudolph
Music by Joe Fiedler, Christopher Jackson, Bill Sherman
Lyrics by Utkarsh Ambudkar ("How Do You Know"), James Monroe Iglehart ("Here's What We Can Do"), Christopher Jackson ("Listen Act Unite")
Script Supervisor: Jennifer Capra
Special Thanks to: Saxton Moore Productions, Lion Forge Animation, Taska Carrigan, Erica Carter, Holly Collinworth, Jennifer Demczar, Dr. Derrick Gay, Jason Pattan, NurseCorps
Awards
In 2021, the special received awards for "Outstanding Children's Program" in the Producers Guild Awards, and "Outstanding Writing in a Television Movie or Special" (for writer Geri Cole) in the NAACP Image Awards.[1] The special also won two Daytime Emmy Awards.
See also
Sources
External links