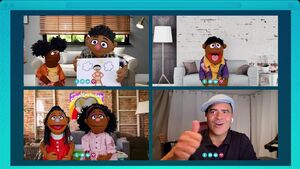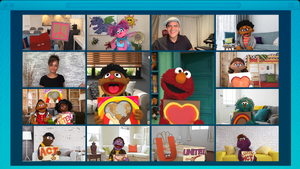 The Power of We Club is a support group that first appeared in the Sesame Street HBO Max special, The Power of We. The group holds videochat sessions where members discuss their feelings about racism and learn how they can be "upstanders," that is, to stand up against unfair treatment based on one's skin (or fur) color.
The group chant is as follows:
You and me makes the power of we.
Build a better world for you and me.
Let's stand up for what is right.
Listen, act, unite!
Noted members include cousins Gabrielle and Tamir, Chris Jackson, Elmo, Abby Cadabby, Charlie, Rosita, and Grover. Beyond the special, the club has been featured in several videos published to Sesame Street's YouTube channel. In one video, Gordon helps the group celebrate "Juneteenth" with a song.
See also