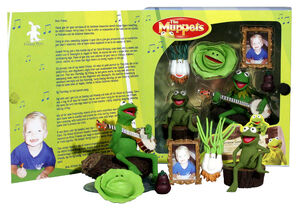 Release: Spring 2005
Articulation: Ball-jointed shoulders and swivel neck.
Accessories: Banjo, log, sitting Robin the Frog, figure, log for Robin, Muppet eggplant, Muppet cabbage, Muppet scallions, and framed picture of Cooper Perry.
This figure of Kermit the Frog, sitting on his log and playing the banjo like he did in The Muppet Movie, was one of the last Muppet figures from Palisades Toys. It was basically an enlarged version of the Kermit mini from wave 3, with added articulation and accessories (including removable banjo and log). He comes with a sitting Robin figure.
This exclusive was available through Palisades Toys online store, Palisades Direct, and all profits from this figure went to a charity, The Cooper Perry Foundation. A framed photo of Cooper Perry, the little boy who inspired this charity, was included with the figure.
The figure also came packed with three pieces of talking Muppet food. With the food that came with the Statler Action Figure, the Waldorf Action Figure and the Swedish Chef Action Figure, they formed a whole group of singing food as it appeared on The Muppet Show.