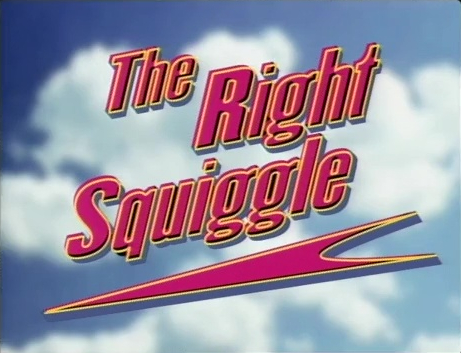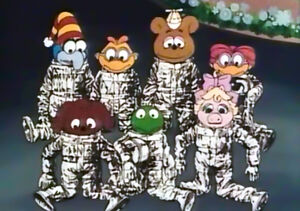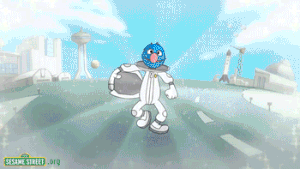 The Right Stuff is a 1983 movie about NASA's first attempt at crewed spaceflight. Based on the 1979 non-fiction book of the same name, the story follows a group of test pilots selected to become astronauts. It is determined that each individual be composed of "the right stuff": the proper blend of education, determination, and physical ability to withstand all that would be required of them in space.
References
When Baby Kermit realizes that they forgot to change out of their pajamas before the babies imagined themselves into an amusement park in the Muppet Babies episode "Fun Park Fantasies", Baby Gonzo suggests imagining that they have no clothes. Instead, the image he conjures depicts the seven babies in spacesuits reminiscent of the seven astronauts as seen in The Right Stuff. Baby Piggy angrily protests: "Gonzo! That's the wrong stuff!" Gonzo replies, "Well, it looked like the right stuff to me."
In "The New Adventures of Kermo Polo", Baby Fozzie sings "Right Stuff" about all the qualities one must have to be an explorer. Although no direct references to the film are made, the phrase as an explanation for having the necessary qualities for a given task or job in relation to the frontier of exploration originates from the book and film, and permeates throughout modern culture.
After Lightning proves himself to Santa Claus in Elmo Saves Christmas, his boss tells the reindeer-in-training that he has "the right stuff" to hold his own amongst those elite few who can soar through the sky pulling his sleigh on Christmas Eve.
When Slimey enlisted with WASA to become a worm astronaut in Sesame Street Episode 3696, his training segment features a title card that read, "The Right Squiggle".
In a Road Safety Campaign video, Grover imagines himself walking in slow motion on his way to a space shuttle launch. This references a scene from The Right Stuff that has often been spoofed in pop culture, including movies such as Michael Bay's Armageddon and Pixar's Monsters, Inc.
Connections
Community content is available under
CC-BY-SA
unless otherwise noted.