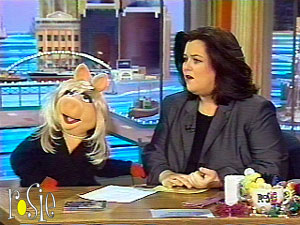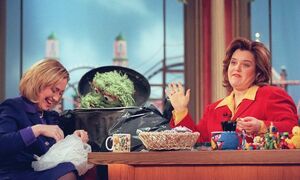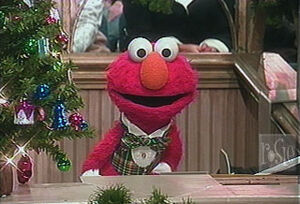 The Rosie O'Donnell Show was a nationally syndicated talk show hosted by comedian Rosie O'Donnell that ran from 1996 to 2002. The Sesame Street Muppets, mainly Elmo, made many stops on her show, as Rosie is a big Sesame fan.
Appearances
December 19, 1996 - Elmo makes a surprise visit. He banters with Rosie, who says "You usually have to be about five to come on the show. And you're only two and a half." Elmo asks what about Parker (Rosie's adopted son). "Oh, he's privileged." Elmo sings "Rudolph the Red-Nosed Reindeer" with fellow surprise guest Luther Vandross. Elmo later says he wants a Cadillac for Christmas. To close the show, a pre-taped clip of guests singing "The Twelve Days of Christmas" features Elmo, Garth Brooks, Penny Marshall, Neil Diamond, and others.
February 17, 1997- From Universal Studios Hollywood. Elmo appears and sets up a running gag for the next week or two, when Rosie questions him about the fact that she gave him they key to her New York dressing room, and the Sesame Street Muppets have been messing around there. Over the next few shows, during periodic check-ins to the studio, different Muppets pop up. In one, Joey and Davey Monkey also appear, stealing snacks from Rosie's New York studio.[1]
February 24, 1997- Rosie plays a video clip of her and Elmo, showing that yes, he did receive a Cadillac after the December 19 show. They prepare to drive away in it, and Elmo says "Let's hear some tunes, Rosie. And no Streisand this time." So they drive off singing the "Sesame Street Theme."[1]
December 24, 1997 — Titled "A Very Rosie Christmas" and featuring all pretaped segments, Elmo is one of several guests, including Hilary Clinton, Luther Vandross, Tony Bennett, Donny Osmond, and others, all performing Christmas songs.[1]
February 8, 1999 — Miss Piggy promotes her perfume Moi, and donates her glove to the For All Kids Foundation; it was auctioned on eBay for about $500.
September 21, 1999 — Elmo
December 3, 1999 — Kermit and Gonzo appear in the "Rosie's Craft Corner" segment, for The Muppets Big Book of Crafts; both of their craft jackets were auctioned on eBay.
December 6, 1999 — Elmo appears to promote CinderElmo.
May 2, 2000 — Elmo appears to promote Buckle Up America.
March 26, 2001 — Elmo talks about the Hurricane on Sesame Street; O'Donnell plugs the week of episodes beginning with Episode 3976.
September 21, 2001 — Elmo appears during the first week of shows since 9/11. O'Donnell brings out her son Blake and they sing "Put on a Happy Face".
Dates unknown
Muppet Mentions
Inevitably, the Muppets and Sesame Street were often mentioned, even when the characters weren't on. Near the start of the first show, on June 10, 1996, Rosie says "This show is unique, original, unlike anything you've ever seen on TV. And today's program is brought to you by the letter L and the number 3."[1]
October 2, 1996- Rosie does a variation of Groucho Marx's You Bet Your Life secret word, with an Elmo doll coming down on the swing. If a guest says the word, each audience member wins an Elmo doll. The gimmick was used "a couple of more times over the next few weeks" and then dropped.[1]
References
In Miss Piggy's Rules, the section "Moi's Top 10 Reasons You Are Better Off Without Him" lists watching taped episodes of Rosie at dinner as number six in the list.
Sources
External links
Community content is available under
CC-BY-SA
unless otherwise noted.