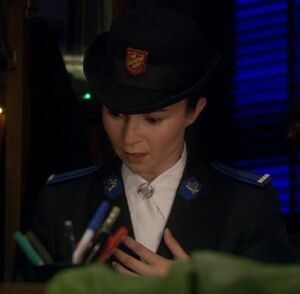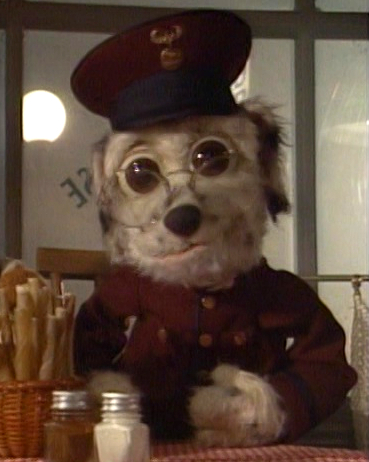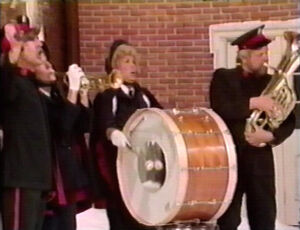 The Salvation Army is a charity organization founded in 1885. As the title suggests, they are known for their quasi-military structure (using uniforms and military titles). They are often known for their use of bands, and of sidewalk collectors at Christmas time.
References
Versions of Salvation Army-style bands, without matching the precise uniform, have appeared in several Muppet projects.
In a sketch on The Jimmy Dean Show (aired November 26, 1964), Rowlf the Dog attempts to find somewhere to have Thanksgiving dinner, having been rejected by many friends and family. He phones the Salvation Army to reserve a table ("Not too near the tambourines," he states), but mistakenly calls the United States Army, who invite him to enlist.
In Dog City, Bubba offers Colleen Barker some free chow at the Dog House. She replies that if she wants a hand out, she'll go to the Dalmatian Army. A representative of the Dalmatian Army appears in an earlier scene.
The official Salvation Army plays a minor, but important role in It's a Very Merry Muppet Christmas Movie. Fozzie Bear rushes to deliver the Muppet Theatre's debt settlement to Bitterman Bank and Development, accidentally bumping into a Salvation Army Santa Claus and employee. He ends up mixing up their bags, winding up with the Army's clothing donations. As the Muppets earn their happy ending regardless, the epilogue shows the Salvation Army benefiting from the Muppets' lost money. Since the TV movie was filmed in Canada, the end credits use the Canadian term "Sally Ann" to refer to the Salvation Army.
External links