The Sandman is a traditional character, sometimes a fairy, who promotes slumber and sweet dreams by judicious application of sand. The character was especially popular in the Scandinavian regions and countries such as Denmark and Germany. Similar figures, such as Wee Willie Winkie, have arisen in other countries.
The Sandman, represented as more of a working deliveryman, appears in episode 3059 of Sesame Street. Savion is unable to get Baby Natasha to take her nap, cueing the Sandman to arrive. He throws a pinch of his sleeping sand toward Natasha, but misses her eyes (which would instantly put her to sleep). Savion borrows some of his sand to do a quiet tap dance with, hoping it'll lull Natasha to sleep. When that fails, the Sandman makes another attempt. Natasha instead blows the sand at him, putting him to sleep.
Other versions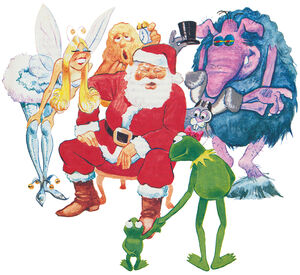 Community content is available under
CC-BY-SA
unless otherwise noted.