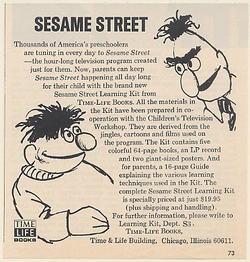 The Sesame Street Learning Kit was released by Time-Life Books in 1970. The Children's Television Workshop had actually made a deal with Time-Life before Sesame Street began to be broadcast.
The kit included two posters, a guide to the kit, four parent/teacher guides, five books, The Sesame Street Book & Record, and a set of ten stickers. Eventually, the books and the record were sold separately in stores, but originally they all came together by mail.
The books featured stills and dialogue from various Sesame Street segments. One unique feature about these books is that they seemed to treat the Muppets equally with the animated segments, with some of the book covers featuring animated characters instead of Muppets. It is also worth noting that they are some of the few Sesame Street books featuring Kermit the Frog, who rarely appeared in Sesame Street merchandise.
The books in this collection included:
External Links