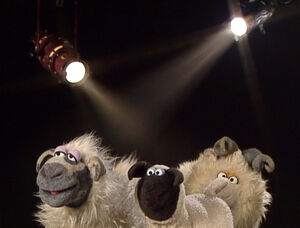 The Silence of the Lambs is a 1991 psychological thriller directed by Jonathan Demme and starring Jodie Foster and Anthony Hopkins, based on the novel of the same name by Thomas Harris.
References
Kermit references the book in One Frog Can Make a Difference: "I just finished this book by Thomas Harris. (Not the Thomas Harris who wrote The Silence of the Lambs. I don't read horror novels. and I didn't see the movie, either. Some of my best friends are sheep.)" Kermit's opinion on horror had changed 21 years later when he expressed a liking for "those Chucky films" in a March 2014 interview with Radio Times.
In Muppets Most Wanted, Kermit, mistaken for Constantine, is transported by prison staff in a manner that references restraints used for Hannibal Lecter in the film.
External links
Sources