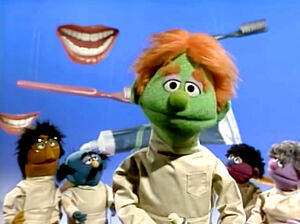 The Singing Dentists sing "Say Toothpaste, Somebody!" on Sesame Street.
The lead singer, performed by Kevin Clash, was made from a Green Anything Muppet, while his background singers (puppeteered by Jim Henson, Martin P. Robinson, David Rudman, and Rick Lyon[1][2] ) were made from Purple, Lavender, Fat Blue, and Pumpkin Anything Muppets.
Henson originally meant to perform the lead singer, performing his singing vocals live on-set (instead of pre-recorded). He wound up feeling too tired on the day of the shoot and suggested Clash perform the lead instead.[2]
Sources