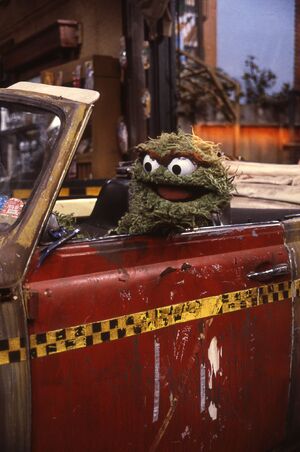 The Sloppy Jalopy is the name of the car Oscar the Grouch uses for his taxi service. It was first introduced on Sesame Street in Episode 1252 (1979).
Multiple signs have been used to identify the commercial vehicle, one of which carries the subtitle, "Ride At Your Own Risk." Another sign on the oversized exhaust outtake reads, "We Don't Go Anywhere." Resembling — and probably cobbled together from — an old Volkswagen bug, the car's roof retracts like a convertible. At least one of its license plates carries the designation, PHO-OEY.
Oscar uses his taxi to drive home from the Groucha-cha Palace with Osvaldo and Grundgetta in Episode 1443 (1980), and he drives Bob to Grouchytown with the car in Episode 2648 (1989).
In 1993, the Jalopy was the featured element of the street story in Episode 3081, as Oscar reminisces about his time with the car.
The car was featured in Sesame Street, Special, and the 1998 video Fiesta! where it was being used as a carosa (float) by the kids to replace Rosita's broken float. Oscar and Grundgetta raced the car in Episode 4134 (2006).
Gallery
Other cars
Another car was featured in Follow That Bird with a different look and vehicle make (but still referred to as the sloppy jalopy). Since his horn is broken, Oscar has a Honker in the backseat to fill that function. A ragged umbrella covers the back area, and a "Big Bird or Bust!" sign is hand painted in a ragged scrawl. The license plate reads, "SCRAM." This iteration of the vehicle was used to promote the film in the 1984 Macy's Thanksgiving Day Parade, with Oscar, Big Bird, Bob McGrath, and Sonia Manzano riding in it.
Oscar drives Cookie Monster and Herry Monster home from the Monster Mart in a cab marked "Grouch Taxi" in the 1982 coloring book Monster.
Before his taxi, Oscar previously had the Grouchmobile, seen in a picture in Episode 0636. He, Gordon, and the kids compare it to Gordon's Volkswagen, with the biggest difference being that the Grouchmobile doesn't work.
See also