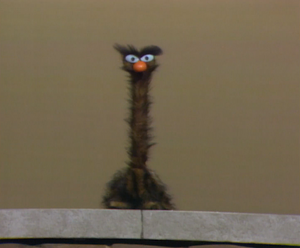 Snerf was a monster created during Jim Henson's early years on television variety shows. It is essentially a little fuzzy tube with eyes and hair, who pops up and down. When Ideal Toys created the first licensed Muppet dolls, the three characters they chose were Kermit, Rowlf and Snerf. However, there's no evidence that the Snerf puppet was actually manufactured and sold.
After a while, multiple copies of the monster appeared at the same time, and they became "the Snerfs."
A slightly altered version of a Snerf puppet was meant to be used in the unmade late '60s special "The Musical Monsters of Turkey Hollow" as one of the "musical monsters."
The Snerfs also made a few notable appearances during the first season of Sesame Street. Two Snerfs named Sam and Harry disrupt Kermit the Frog's lecture on "tall" and "short" by constantly changing sizes. (First: Episode 0015) Another Snerf appears in a two-part segment, where a narrator (Frank Oz) comments on the creature's pride in himself and calls him a "silly Snerf." (First: Episode 0072)
Some Snerfs appeared in the 1970 special The Great Santa Claus Switch. One of them identified himself in a song as "Snickery."
A chorus of Snerfs performed "In a Little Spanish Town", in the Herb Alpert and the Tijuana Brass special (1974), and again as the opening number in episode 113 of The Muppet Show (1976).
Originally, the Snerfs had round noses. In The Great Santa Claus Switch, they had beaks. In their Herb Alpert and Muppet Show appearances, they had trumpets for noses.
Filmography