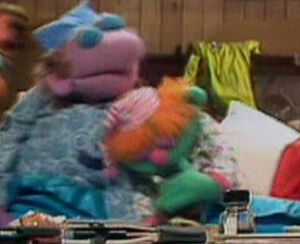 The Snorer's Chorus are a group of whatnots that briefly perform in The Muppet Show episode 502.
When Kermit the Frog fires Miss Piggy, he immediately calls the group out on to stage to fill her spot. As they are all asleep, Beaker and Beauregard carry all four of them out on a single stretcher.
Their performance is never seen, but their snores and whistles can be heard accompanied by a piano while Kermit and Piggy argue backstage.
Their appearance is cut short when Scooter warns Kermit that they're going to put the audience to sleep. Beaker and Beauregard carry them offstage as Piggy asks "How can he fire me?" The only Snorer to speak (voiced by Steve Whitmire) says, "Don't ask me, I was asleep."