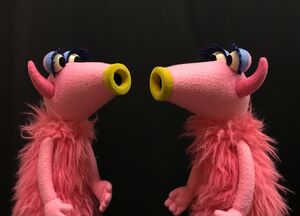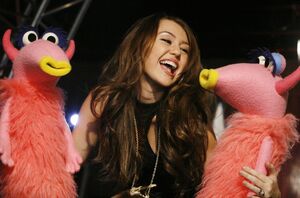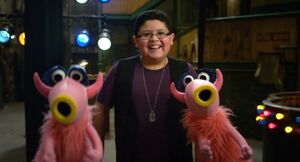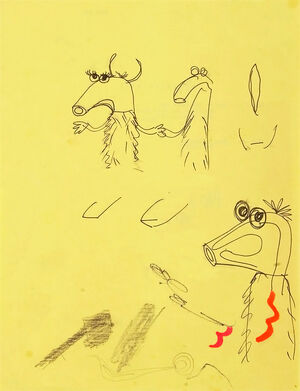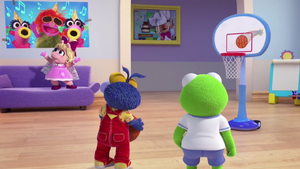 The Snowths are furry pink creatures with horns and round, yellow lips who sing the "do doo do doo doo" backup vocals in versions of "Mah Na Mah Na" that have appeared on The Ed Sullivan Show and The Muppet Show. Both Snowths were performed simultaneously by Frank Oz, who performed one puppet on each arm; as a result, the Snowths' arms could not be controlled by arm rods and swung freely from side to side.
Unlike their singing partner Mahna Mahna, the Snowths made relatively few appearances on The Muppet Show outside of their performance of "Mahna Mahna" on episode 101. In the closing of the very last episode, one of them appears near Roger Moore among the "sick, weird, disgusting animals [he] can trust".
On Muppets Tonight, the Snowths appeared without Mahna Mahna in a sketch on episode 107 that parodied the classic sketch. They also made two appearances with Kermit the Frog on Jerry Lewis MDA Labor Day Telethon, performing "Got My Mind Set on You" in 2001, and "Mahna Mahna" in 2002.
The former appearance was the first instance of the Snowths having movable hand-rod arms, which were utilized in the 2001 show The Muppet Show Live, where one of them puts their hands over their mouth when Mahna Mahna goes crazy. They also appeared in the 2005 "Bandanana" commercial for the Australian charity CanTeen, in which they, along with Mahna Mahna, wore green bandanas. In 2008, the Snowths appeared on Studio DC Hosted by Dylan and Cole Sprouse, performing backup for Miley Cyrus on the song "G.N.O. (Girls' Night Out)".
In Jim Henson's Designs and Doodles, Alison Inches explains that the characters in Jim Henson's original sketch were called Snouths, based on a combination of the words snout and mouth. However, by the time the characters appeared on The Muppet Show, the spelling had changed to Snowths. The characters are referred to as such in The Muppet Show Book, on the back of The Muppet Show album, and on all future album releases.
One of the Snowths is featured in The Muppets Character Encyclopedia entry for Koozebanians suggesting their species may hail from the Planet Koozebane.
In The Muppets, the narrator for the home video version's descriptive English track describes them as "two pink Muppets vaguely like cows."
Filmography
Book appearances
Merchandise
Sources