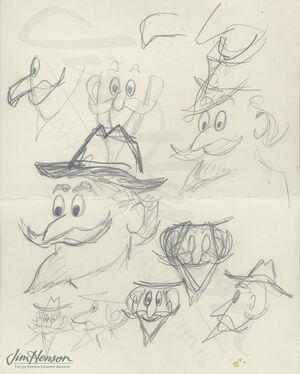 The Southern Colonel was a dapper, stereotypical Southern gentleman who served as the spokescharacter for Southern Bread in a series of sixteen TV commercials produced between 1965 and 1966. A live-hand puppet, and one of the few characters with five fingers on each hand, the Colonel was operated by Jim Henson with assistance from either Frank Oz or Jerry Nelson.
The Colonel also appeared with actor Rex Robbins in the "A Change of Face" sketch on The Ed Sullivan Show. In this sketch, Robbins attempted to cure the Southern Colonel of his funk by rearranging, as well as outright changing, his face. Similar demonstrations of the puppet's ever-changing personality were seen on The Muppets on Puppets, The Muppets Make Puppets, and The Dick Cavett Show.
The Colonel was also used as a generic puppet during the first season of Sesame Street, redesigned as Jack in "A, You're Adorable," and Granny Fanny Nesselrode in her initial appearances. Granny would subsequently be redesigned from the Large Lavender Live Hand Anything Muppet pattern, created for the second season.