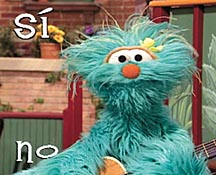 The Spanish Word of the Day is a Sesame Street segment in which a character teaches a Spanish word and its English translation. Usually the segment features Grover, Rosita, Maria or Gabi.
The Spanish Word of the Day was introduced in season 33, and was a daily feature on the show through season 36. The majority of them have been cut from re-airings on streaming services or syndicated networks like Sprout.
Sketches
Season 33
Picture
Word / First Appearance
Description

Sí and No
Episode 3981
Maria, in voice-over, asks Rosita to tell her the Spanish Word of the Day, but mistakes her answers, sí (yes) and no (no), as answers regarding whether she'll reveal the Spanish word of the day, before realizing that there are two Spanish words for the day.

Adiós
Episode 3982
Rosita says adiós (goodbye) to the word and to the viewer.

Flor
Episode 3983
Maria smells some flores (flowers), and then smells Stinky the Stinkweed.

Agua
Episode 3984
Rosita shows what agua (water) means.

Gato
Episode 3985
Rosita shows viewers a gato (cat).

Perro
Episode 3986
Several dogs pounce on Grover to demonstrate the word perro (dog).

Leche
Episode 3988
Rosita drinks leche (milk).

Zapato
Episode 3989
Professor Grover tries to teach kids how to wear a zapato (shoe).

Libro
Episode 3990
Grover mistakes the english meaning of libro (book) for other things, despite the fact that he is holding one.

Casa
Episode 3991
Gabi watches Slimey play in a small casa (house).

Teléfono
Episode 3992
Big Bird and Mr. Snuffleupagus use the teléfono (telephone).

Abierta and Cerrada
Episode 3995
Gabi tries to feed Baby Natasha, and in doing so demonstrates abierta and cerrada (open and closed).

Hola
Episode 3996
Everyone tells Grover hola (hello), but Maria has to explain to him its meaning.
Season 34
Picture
Word / First Appearance
Description

Gracias
Episode 4031
Rosita presents the Spanish word gracias (thank you) in response to thrown flowers and applause.

Por Favor
Episode 4032
Telly asks what por favor means and Rosita answers "please." Telly says "please," mistaking her translation for a request to mind his manners. This happens several more times, until Rosita explains that por favor means "please" in Spanish.

Niño and Niña
Episode 4040
Grover mistakes the Spanish words for both "boy" and "girl" for "spaghetti."

Feliz
Episode 4042
Oscar the Grouch does not like the fact that the Spanish word of the day, feliz, means "happy," though he is happy that Slimey (who is playing in the mud) is feliz.

Cara
Episode 4046
An artist draws a cara (face) as Grover tries to guess the word's meaning.

Escuela
Episode 4053
Grover teaches the Spanish word for "school." A fish joins him.
Season 35
Picture
Word / First Appearance
Description

Baila
Episode 4058
An elephant hears music, and wants to dance. Rosita then informs the elephant that baila means "dance."

Abrazo
Episode 4064
Rosita offers her elephant friend un abrazo. The elephant is surprised to learn that abrazo means "hug," but then offers Rosita un abrazo in return.

Silla
Episode 4066
Rosita presents silla, the Spanish word for "chair."

Manzana
Episode 4069
Slimey eats the apple while Rosita introduces the word.

Para
Episode 4072
Rosita shows the Spanish word for "stop."

Salta
Episode 4075
Rosita tries to see if the Elephant, Narf, and a chicken can figure out that salta is the Spanish word for "jump."

Familia
Episode 4078
Rosita show us the Spanish word of the day and introduces us to her family. Then they all hug each other.

Musica
Episode 4079
Rosita and Miles play their guitars as they demonstrate the Spanish word for "music."
Season 36
Picture
Word / First Appearance
Description

Siesta
Episode 4094
Rosita takes a siesta (nap) in the sunlight.

Zanahoria
Episode 4095
Grover leads some children (gathered on the steps of 123 Sesame Street) in a song about the health benefits of carrots; the lyrics also include the vegetable's Spanish name.

Pez
Episode 4099
Elmo's pet goldfish, Dorothy, tells Rosita that the Spanish Word of the Day is pez, which means "fish."

Counting to Ten
Episode 4100
Rosita repeatedly sings the chorus of the "Conga Counting Song" to teach us how to count to 10 in Spanish.

Canta
Episode 4106
Rosita and Slimey take turns singing.

Pequeño and Grande
Episode 4108
Rosita demonstrates pequeño (small) and grande (big) first by showing Slimey, who is pequeño. She then realizes she doesn't have anything grande to show. However, Slimey's friend the elephant, who is grande, comes by. Then, the two leave to go bowling, and Rosita runs after them to join them.