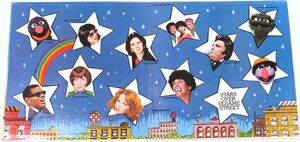 The Stars Come Out on Sesame Street features special guest stars performing on Sesame Street, either singing by themselves, or with several of the Muppet characters. All tracks are taken from live performances on the show.
This album was nominated for a Grammy Award for Best Recording for Children, but lost to The Muppet Movie soundtrack album.
On the digital releases of the album, "Wonder Child" was replaced with another performance of "Yesterday, Today and Tomorrow," using the complete audio from the TV version. The notes still credit it as "Wonder Child" and Reddy as the artist.
Track listing
Side One
Side Two
Cast
Credits
Audio material from the Sesame Street program produced and directed by Jon Stone
Edited for records by Jim Timmens
Other releases
See also