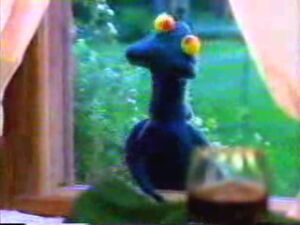 The State is a sketch comedy show that aired on MTV from 1993-1995.
Mentions
Episode 2 of the second season contained a sketch called "Eating Muppets," featuring The State actors Michael Showalter, Kerri Kenney, Todd Holoubek, Ken Marino, and David Wain. The sketch involved two couples calling Sesame Street-esque puppets to the window and killing them for their meat.
In episode 3 of the third season, David Wain's character is seen sleeping with a Grover doll in "The Restaurant Sketch".
In The State's previous television series, You Wrote It, You Watch It, a sketch entitled "The New Guy" features Robert Ben Garant wearing a Big Bird t-shirt and Michael Ian Black holding a Grover doll.
The State's travel book, State By State with The State, in a passage on how to get to New Hampshire by car, notes that "The long thin thing (shaped like Bert) makes it go, and the wide, shorter pedal (shaped like Ernie) makes it stop."
Connections
External links