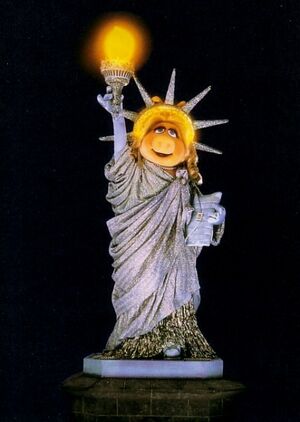 The Statue of Liberty stands at the mouth of the Hudson River in New York Harbor. A gift from France, it was dedicated in 1886 to celebrate the centennial of the United States of America.
Miss Piggy has been pictured as the Statue of Liberty in many forms, including a Sigma Ceramics candlestick in the early `80s. Since that time, other such similar merchandise has been produced and she has gone on to appear as Lady Liberty in several on-screen and illustrated appearances.
A short comic in the Summer 1986 issue of Muppet Magazine tells the story of Lady Liberty's inspiration, Jeanne-Emilie Bartholdi as played by Miss Piggy. After catching a vase filled with flowers and a book titled "Theory of Flight," Bartholdi is instructed to stand in an awkward pose while a prototype is sculpted. The accompanying poster pull-out for the magazine is a photo of the result signed by Miss Piggy as "Miss Liberté."
Piggy appeared on screen as the Statue at the climax of the closing number in Muppet*Vision 3D, and she forms the centerpiece of the fountain outside the Muppet*Vision theater in Walt Disney World. A number of Piggy items sold at the theme park have featured her in the Statue of Liberty costume.
The real Statue of Liberty appears in a MasterCard commercial with the Muppets, shot on location in New York, and had previously been seen with Kermit and Piggy in promotional material for The Muppets Take Manhattan.
Miss Piggy
Muppets
Sesame Street
Other
Minor references