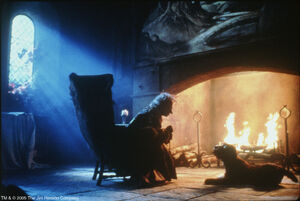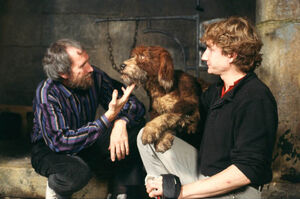 Jim Henson's The StoryTeller is a fantasy anthology series for television that first aired on NBC on January 31, 1987. It stars John Hurt as the Storyteller who bookends each story as told to his dog (performed by Brian Henson).
Each story is a retelling of a classic tale from folklore adapted by Anthony Minghella with music by Rachel Portman, and features a human cast with creatures from Jim Henson's Creature Shop.
Four episodes aired independently, and five were incorporated into The Jim Henson Hour, for a total of nine half-hour episodes, two of which were directed by Jim Henson.
The series later continued as the spin-off, The StoryTeller: Greek Myths, and went on to tell further tales in several graphic novels and comic books. In February of 2019, a "comeback" series was announced as being developed by Neil Gaiman.
Background
A Note from Jim Henson
Distribution
Awards
See also
External links