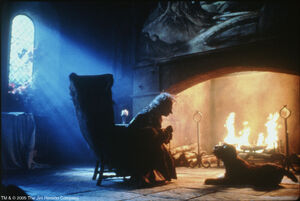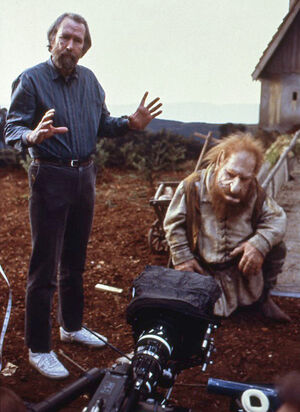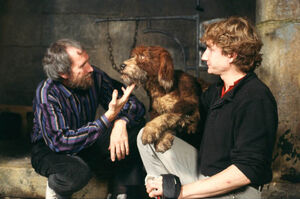 Jim Henson's The StoryTeller is a fantasy anthology series for television that first aired on NBC on January 31, 1987. It stars John Hurt as the Storyteller who bookends each story as told to his dog (performed by Brian Henson).
Each story is a retelling of a classic tale from folklore adapted by Anthony Minghella with music by Rachel Portman, and features a human cast with creatures from Jim Henson's Creature Shop.
Four episodes aired independently, and five were incorporated into The Jim Henson Hour, for a total of nine half-hour episodes, two of which were directed by Jim Henson.
The series later continued as the spin-off, The StoryTeller: Greek Myths, and went on to tell further tales in several graphic novels and comic books. In February of 2019, a "comeback" series was announced as being developed by Neil Gaiman.
Background
"

The StoryTeller series was originally conceived by Jim Henson's daughter Lisa after talking a folklore class at Harvard University. Jim was enchanted by the idea of a television series that remained true to the subtlety and metaphoric richness of ancient stories. He and Lisa brainstormed the concept of the series, basing all of the episodes on authentic folk tales. The result of a strong literary research team joined with the magical visual effects and animatronics produced by Jim Henson's Creature Shop, The StoryTeller is a rare combination of ancient tradition and modern technology artistry.

Jim Henson brought together an extraordinary talented group of collaborators to create the series...The StoryTeller began airing in the United States in 1987 on NBC, was lauded by fans and critics alike and won numerous awards. The series ran in its entirety on United Kingdom, Japanese, and Australian television. In the United States, four StoryTeller episodes aired independently, and the other five aired as part of The Jim Henson Hour, also on NBC, in 1989. Additionally HBO ran all the episodes in December 1997 and January 1998."
—DVD liner notes
A Note from Jim Henson
"

When I was a child, my mother's family would gather at my grandmother's house. Fifteen or twenty people would be there, sitting around the dinner table, and my grandparents would have stories to tell - usually stories from their childhood. They would tell a tale, and somebody would try to top it. I've always felt that these childhood experiences were my introduction to humor - of my family sitting around the dinner table, making each other laugh.

As children, we live in a world of imagination, of fantasy, and for some of us that world of make-believe continues into adulthood. Certainly I've lived my whole life through my imagination. But the world of imagination is there for all of us - a sense of play, or pretending, of wonder. It's there with us as we live.

As I've grown older, I've been attracted to fairy tales and folk tales, and the rich quality of these stories - grown richer as they have gone through generations and generations of telling and retelling. They're important - for the flow of information, and energy, and entertainment from the storyteller to his listeners as the storyteller calls upon them to meet him halfway, to create the story in their own minds.

It is our responsibility to keep telling these tales to tell them in a way that they teach and entertain and give meaning to our lives. This is not merely an obligation, it's something we must do because we love doing it."
—Jim Henson, Creator of The StoryTeller (from the DVD liner notes)
Distribution
Awards
See also
External links
Community content is available under
CC-BY-SA
unless otherwise noted.