Jim Henson's The StoryTeller features adaptations of the nine stories first seen in the television series of the same name. Anthony Minghella adapted his own screenplays for the 180 page book with painted illustrations of the stories by Darcy May.
Chapters
Introduction
"

None of the nine stories in this book is my own. I have plundered and borrowed from the riches of the European folktale and extracted those narratives which seemed beautiful or strange or delightful without the burden of scholarship to restrain me. These stories have been told and repeated through the ages, changing with each retelling, so that every country and culture has its own set of variants on the classic tales. I have felt like a man who hears a good joke and tells it to his friends. I have taken liberties, invented what I have forgotten, and changed what I have remembered. At the same time, I have tried not to impose my own judgment on the material. Italo Calvino, in his marvelous anthology of Italian Folktales, described himself as a link in the anonymous chain without end by which folktales are handed down. I am happy to join him, guided by the same Tuscan proverb he invoked for his own work: "The tale is not beautiful if nothing is added to it."

This book is for my son Max, who began his life as I began these stories. I have tried to fill his days with their magic just as he has filled my days with his own.

A.M."
Other editions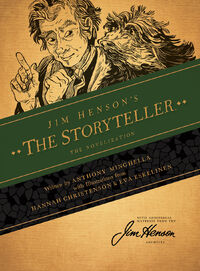 Paperback, Alfred A. Knopf, 1997, ISBN 0375702156
Paperback, Pan Macmillan, ISBN 1852830271
Random House Value Publishing, 1999, ISBN 051740947X
Hardcover, Archaia, 2014 - includes newly discovered conceptual artwork and excerpts from Jim Henson's original journals.
Sources
Community content is available under
CC-BY-SA
unless otherwise noted.