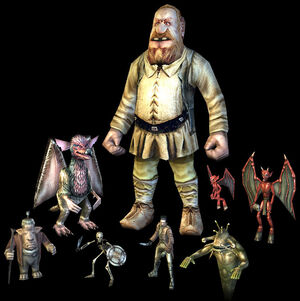 Jim Henson Interactive announced a video game version of The StoryTeller at the 2000 Electronic Entertainment Expo. The game was in development with Codemasters and scheduled for a Spring 2001 release on Sony's PSone console.
From the press release:
In the game, players take control of the main character in stories and tales based on the show. Players battle evil monsters, solve cunning riddles, and explore strange and beautiful lands. The game is entwined with the twisting tale spun by the Storyteller himself. The game will combine fantastic legends, and myths with cutting-edge graphics and excellent gameplay.[1]
Characters depicted in advance art included the Heartless Giant, the Griffin, the Troll, devils, and Pond Sprite, as well as a skeleton.
From the developer's website:
As the player you take control of the main character of each of the Storytellers tales, battling evil monsters, solving cunning riddles and puzzles, exploring the strange and beautiful land as you strive to complete your quests. Just like in the TV programme, the whole game is entwined within the classic twisting storyline of the Storyteller himself. Not only will he set the scene for your quest but also narrate as you progress through the game, providing atmosphere to the scenes, warning you of potential dangers and giving you guidance when you are in difficulty.[2]
Screenshots
Captions from the developer's website.
Concept art
Captions from the developer's website.
Character models
Captions from the developer's website.
Sources
↑ "Jim Henson Interactive Signs Codemaster to Produce Game Based On Jim Henson's The Storyteller" PRNewswire, May 11, 2000
↑

www.blue52.co.uk (now defunct)
Community content is available under
CC-BY-SA
unless otherwise noted.