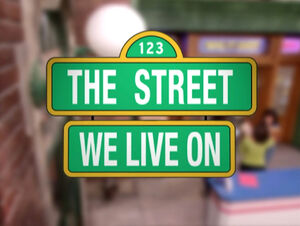 The Street We Live On is a celebration of 35 years of Sesame Street, which aired as Episode 4057. In the special, Elmo has a special day in Elmo's World, thinking about his neighborhood. The special contains clips from classic Sesame Street episodes, a special musical number sung by the Sesame Street cast members, and a timeline sequence which pays tribute to some of the greatest moments of Sesame Street.

Picture
Scene
Description

COLD OPEN
My Favorite Sesame Street Moments: Doris Roberts
"My favorite moment about Sesame Street is all 35 years."

SCENE 1
Grover is given a package to send to Oscar the Grouch. Along the way, he encounters his various friends and neighbors, and eventually gives Oscar the package. It is a drawing of Dorothy drawn by Elmo, with spaghetti sauce on the picture. Included is a note from Elmo's mother: "Dear Oscar, Elmo drew this picture of Dorothy and spilled spaghetti sauce on it and wanted you to have it." Oscar likes the picture and wonders where Elmo is at, which leads to...




SCENE 1 cont'd
Elmo's World! Elmo welcomes the viewers and reveals that he is thinking about Sesame Street today. The door plays the Sesame Street Theme and when Elmo opens it, his friends are sitting or hanging around 123 Sesame Street. Just then Oscar pops up and says to Elmo, "Hey! Get Lost!" A clip montage follows.
In the home video release, the montage is shortened and replaces the kazoo-version of the "Sesame Street Theme" with the standard Elmo's World montage music.

SCENE 2
Dorothy has a question: "How does Cookie Monster eat a cookie?" Elmo decides to ask Mr. Noodle.

SCENE 2 cont'd
Mr. Noodle attempts to demonstrate how Cookie Monster eats a cookie. He first eats the cookie in small bites and then tries to eat the cookie neatly with a fork and knife. Elmo tells him to think like a monster, and Mr. Noodle eats the cookie messily. After Mr. Noodle finishes the cookie, he wants some more; a bunch of cookies suddenly fall onto him and he begins to eat them all.

SCENE 2 cont'd
Elmo asks some kids how Cookie Monster eats a cookie, and then asks two babies, one of whom is really Cookie Monster dressed as a baby. Cookie Monster bites a cookie, forming the letter C, and proclaims that "C is for Cookie."

Celebrity
"C is for Cookie" with Marilyn Horne. (opening vamp cut)
(First: Episode 3189)

Cartoon
The Typewriter: C-cat (new sound effects added)
(First: Episode 0779)

Film
"C" for Circle
(First: Episode 3313)

Animation
Traction Jackson sings "Me and My Chair."

Muppets
The Spanish Word of the Day: Casa
(First: Episode 3991)
cut from the HBO Max version




SCENE 3
Elmo gets e-mail from Big Bird and Mr. Snuffleupagus who teach Elmo how to do the Snuffleupagus by singing "Doin' the Snuffleupagus".

SCENE 3 cont'd
Elmo decides to count the monsters in the monster parade, but Count von Count wants to help, saying that when they finish counting, they will know "The Number of the Day". They count 9 monsters, but then adding Elmo himself they counted 10 monsters all together, which means 10 is the Number of the Day.

Film
Ten Song (Song of Ten) (new sound effects added)
(First: Episode 0021)

Film
Ten Flowers
cut from the DVD version

Cartoon
"Ten Turtles" (new sound effects added)
(First: Episode 0425)
cut from the DVD version




SCENE 4
Ernie runs into Elmo's World, trying to find a place to hide from Big Bird. Big Bird sticks his head into Elmo's World before the announcer announces that it's time to play "Journey to Ernie", despite the fact that the game already started.

Muppets
Journey to Ernie
Nursery Rhyme Land (beginning edited)




SCENE 5
Bert comes looking for Ernie, and wonders how he can get out of Elmo's World. Elmo says that Dorothy has been thinking about Bert and Ernie.

Muppets
Ernie & Bert — "Dance Myself to Sleep" featuring a new sequence with celebrity guests who appeared on Sesame Street during the 35th season.
When this special was released on video, some of the celebrities were edited out.
(First: Episode 1705)

SCENE 5 cont'd
Elmo asks the viewers about who lives on Sesame Street and who doesn't.

SCENE 5 cont'd
Elmo talks about how Grover travels a lot. Grover went on a trip and told Elmo all about it.

Muppets
Global Grover:
Peacock Dance in China

SCENE 6
Elmo wants to know more about Sesame Street, so he turns to "The Grover, Maria, Big Bird, and all Elmo's Friends Channel".

SCENE 6 cont'd
A cartoon about a little girl who gets lost and ends up on Sesame Street, meeting Big Bird, Zoe, Oscar, Super Grover, Maria, Gordon, and Snuffy. They sing and dance along to the Alphabet. Then the little girl leaves Sesame Street and says good bye to everyone there.
Coming up next: "Counting with the Count"

SCENE 6 cont'd
Elmo wants to learn more about Sesame Street, so Super Grover comes to take Elmo back in time to see what Sesame Street was like before he was born. After a few failed attempts, Grover becomes a taxi driver, and they ride in a taxi that takes them back in time.

SCENE 6 cont'd
Grover drives his taxi back in time, and Elmo gets to see Mr. Hooper, Maria and Luis's wedding, Gabi's birth, and Miles' adoption.

SCENE 6 cont'd
Elmo decides to sing "The Sesame Street Song", and starts playing it on his piano, but then he stops, realizing that he does not have to sing about Sesame Street because he is in Sesame Street and he decides to tell everyone the good news.

SCENE 6 cont'd
Elmo tells everyone on Sesame Street that he is glad that they are his friends and that he lives on Sesame Street. Then they all sing "The Street I Live On."

SCENE 6 cont'd
Elmo and Dorothy announce the sponsors and Elmo waves good-bye to the viewers. The rest of the cast also waves good-bye to the viewers as Oscar pops out of his trash can and adds "Get Lost!"




Timeline
A timeline sequence, showcasing one clip from each season. At the end, a moment of silence.
When this special was released on video, this sequence was cut.

Muppets
"Mah Na Mah Na" (First: Episode 0014) plays during the credits.

The introduction is not included. When released on video, this segment was replaced with "Handclapping Number". (First: Episode 0491)
Clips in Timeline Sequence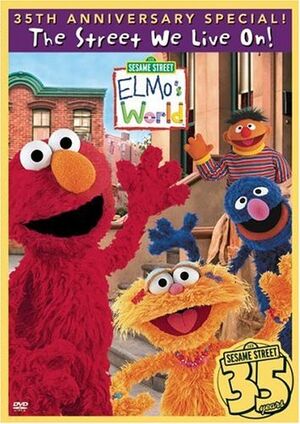 1969: Gordon shows Sally around Sesame Street (Episode 0001)/ Ernie sings Rubber Duckie.
1970: The King of Eight.
1971: Ladybugs' Picnic.
1972: Herry Monster and John-John count to 20.
On HBO Max, this clip was replaced by Kermit and Joey singing the alphabet
1973: Bob and Maria, dressed as spies, sing "One of These Things".
1974: David and Olivia sing The People in Your Neighborhood.
1975: Lily Tomlin sings and signs Sing with a group of kids.
1976: Ernie plays doctor with Bert.
1977: Madeline Kahn and Grover sing Sing After Me.
1979: "Born to Add"
1980: Big Bird sings "Wheels on My Feet".
1981: Harry Belafonte sings "Coconut Counting Man".
1982: Teeny Little Super Guy
1983: Big Bird learns that Mr. Hooper is not coming back (Episode 1839).
1984: Maria and Luis sing "You Say Hola and I Say Hola."
1985: The adults see Mr. Snuffleupagus for the first time ever (Episode 2096).
1986: "Put Down the Duckie".
1987: "African Alphabet".
1988: Kermit directs Forgetful Jones in a production of "Oklahoma".
1989: Alistair Cookie of Monsterpiece Theater introduction of "The King and I" with Grover as the king.
1990: Luxo Jr.
1991: Oscar sings "I Love Trash". (remake)
1992: "That's the Letter O"
1993: William Wegman's dogs count.
1994: Savion plays a rhyming game.
1995: "Eating Cookie".
1996: A beluga whale shows Elmo love.
1997: Tony Bennett sings "Slimey to the Moon".
1998: Patrick tells Grover that he is the best monster he has ever met.
1999: "Furry Happy Monsters"
2000: "What is Friend?"
2001: Big Bird learns that a hurricane blew his nest down (Episode 3977).
2002: Elmo tells the fire fighters that he's not scared anymore (Episode 3981).
2003: "ABC Hip Hop"
2004: The cast at the end of the special.
Cast
Major Muppets
Background Muppets
Human Cast
Muppet Performers of Sesame Street
Notes
Although Mr. Hooper, Miles' adoption, Maria and Luis' wedding, and Gabi's birth are all touted as events that occurred before Elmo was born, they in fact occurred long after the character was introduced. Elmo, in fact, can be seen in the clip of Maria and Luis' wedding, yet acts like he isn't even there.
The timeline incorrectly includes a clip with Olivia to represent 1974. Olivia first appeared on the show in 1976.
Although the timeline sequence includes a clip from one of C-3PO and R2-D2's appearances for 1978, their appearances were actually made in season 11.
The timeline incorrectly includes a clip with Teeny Little Super Guy to represent 1982. Teeny Little Super Guy first appeared on the show in 1984.
Variations of the timeline sequence, using some different clips, have been used to commemorate subsequent anniversaries, appearing on the DVD set 40 Years of Sunny Days, the 2009 Daytime Emmy Awards, and a 50th Anniversary highlight reel. (YouTube)
The VCD release for Singapore and Malaysia replaced Marilyn Horne's version of "C is for Cookie" with "The First Time Me Eat Cookie". It also edited out the "Typewriter", "C is for Circles" and "Spanish Word of the Day" segments.
Releases
External links