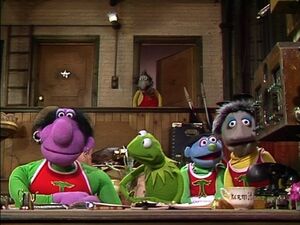 The Teeterini Family is a group of Italian acrobats from The Muppet Show episode 512. They performed a stunt with a teeter-board.
The family consisted of a mother (performed by Louise Gold) and a group of sons.
The Teeterini Family puppets are Whatnots. They have a lot in common with The Flying Zucchini Brothers; they even wear the same outfits.
At the end of the episode, one of the sons is sent flying to Statler and Waldorf's balcony box. As Waldorf waves a white flag, the two curmudgeons shout that they surrender.